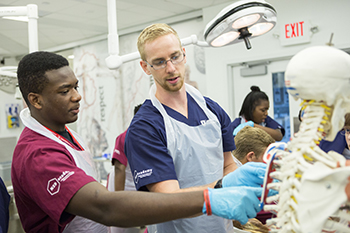 MEDacademy Masters
---
MEDacademy Masters is an advanced two-week medical education experience program for highly motivated and dedicated graduates of Cooper Medical School of Rowan University (CMSRU)'s MEDacademy program who want to further expand their knowledge and skills in the field of medicine. This program builds on the medical education foundation learned in MEDacademy and offers a progressive educational and a hands-on learning experience to prepare high school seniors and college freshman for the rigors of college level health sciences courses.
MEDacademy Masters takes you on an exploration of how the body works with the study of the Musculoskeletal (muscular and skeletal) System. You will discover how the body moves and will learn about the diagnosis, prevention and treatment of the diseases and disorders that affect the function of the form, support, stability and movement to the body through lectures, active learning groups, gross anatomy lab cadaver dissection sessions, hands-on demonstrations and interactive clinical settings.
Proposed Summer 2024 Information
---
MEDacademy Masters will take place at the CMSRU Medical Education Building (401 South Broadway, Camden, New Jersey, 08103) from Monday, July 15 through Friday, July 26, 2024.
Application Process
Eligible Candidates
This competitive program is designed for MEDacademy Alumni with a strong interest in the medical field who have:
• completed MEDacademy (Phase I);
• maintained a GPA of 3.3 or higher;
• successfully completed advanced science and math courses; and
• demonstrated a genuine interest in anatomy and physiology.
Admission
Applicants must have completed MEDacademy or be a highly competitive rising college first-year student who has completed some advanced science courses in high school, to participate in the MEDacademy Masters Program. MEDacademy Masters is accepting about 15 students into this highly competitive program. Candidate selection will be determined through a review of all application materials.