Integrated Ultrasound Curriculum
---
CMSRU has a four-year, longitudinal, integrated ultrasound curriculum that puts ultrasound probes in students hands from the first experience. Utilizing a flipped classroom approach, with pre-session video lectures, and hands-on education with faculty experts in POCUS (Point of Care Ultrasound), we are training the next generation of students to use, and, more importantly, understand the best clinical application of and limitations of point of care ultrasound in our Clinical Skills & Simulation Center.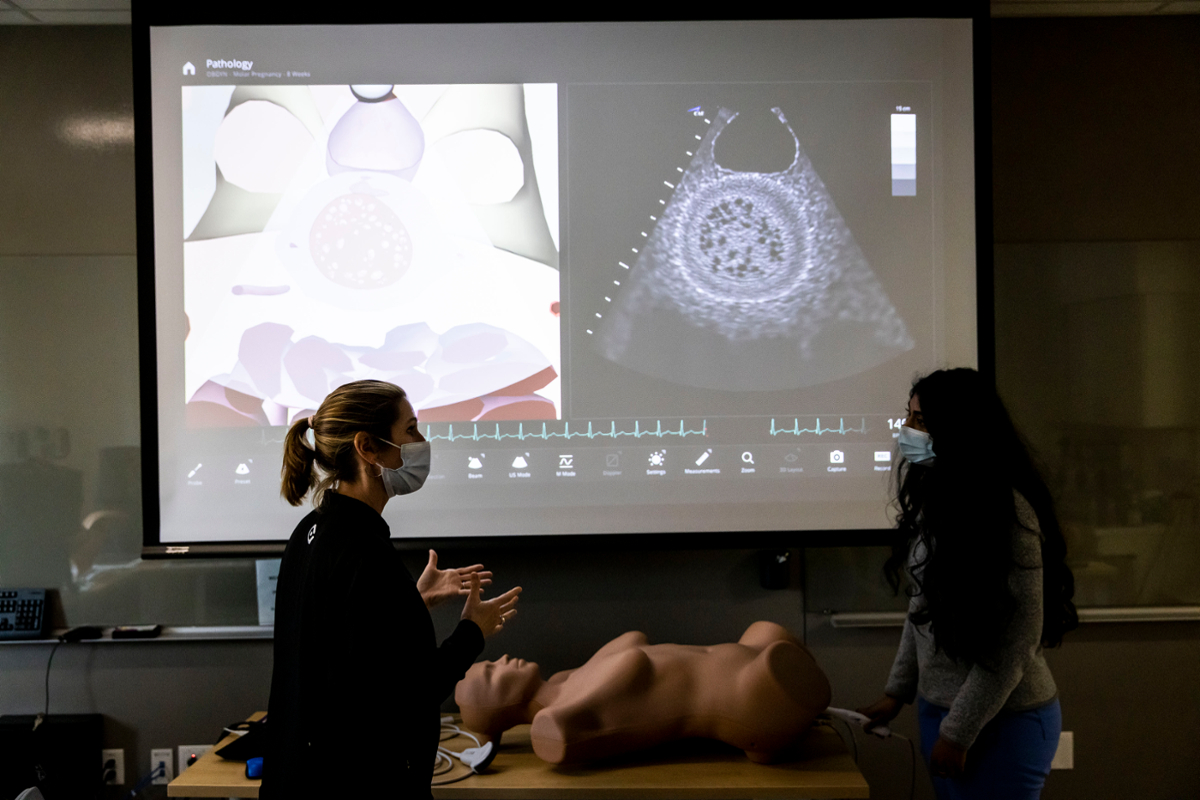 With a multidisciplinary faculty pool, with educators from Emergency Medicine, Pediatrics, Radiology and Critical Care, students have a small group experience with faculty that is second to none.
The curriculum starts in M1 year, with an introduction to procedural ultrasound, nerve blocks and ultrasound guided IVs, and then over the first and second years of medical school, students practice on standardized patients and high fidelity simulators, learning how to ultrasound the heart, lungs, gallbladder, kidneys and more.
Before students start their clinical year, we re-introduce them to placing an ultrasound IV. In a unique model, they then move onto doing dedicated sessions roughly every 6 weeks, rotating through stations with high fidelity simulators, standardized patients, procedure labs and small group discussions of medical decision making using an ultrasound. 
In their fourth year, students experience specialty specific ultrasound experiences in their required rotations of Emergency Medicine and Critical Care, spanning experience with SPs, high fidelity simulators and various procedural training sessions.
This curriculum is constantly being refreshed and re-designed to better meet the needs of this next generation of learners.
The curriculum is spearheaded by:
Sarab Sodhi, MD, MAUB, FAAEM
Director of Undergraduate Ultrasound
Alyse Volino, MD
Assistant Director of Undergraduate Ultrasound
Ultrasound Curriculum for 2024-2025
M1 Year
Session Name
UMED Intro
Introduction
Skin & Musculoskeletal (SMS) Ultrasound
M2 Year
Session Name
Cardiac Ultrasound
Pulmonary Ultrasound
Gastrointestinal (GI) Ultrasound
Renal Ultrasound
Obstetric (OB) Ultrasound
M3 Year
Session Name
M3 Skills Day
Musculoskeletal (MSK) Ultrasound
Cardiac Ultrasound
Pulmonary Ultrasound
Gallbladder (GB) & Renal Ultrasound
Focused Assessment with Sonography in Trauma (FAST) &
Rapid Ultrasound in Shock & Hypertension (RUSH)
Obstetric (OB) Ultrasound
Vascular Ultrasound
Make Up Ultrasound
M4 Year
Session Name
Emergency Ultrasound
Point of Care Ultrasound (POCUS) Elective
Emergency Medicine
Critical Care
M4 Capstone