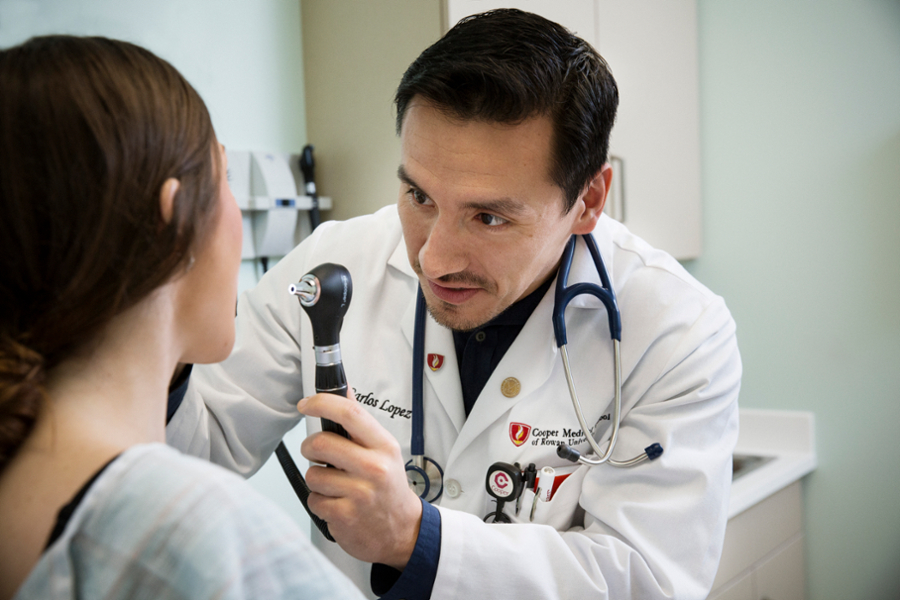 Interactive Learning Environment
---
The Clinical Skills and Simulation Center at Cooper Medical School of Rowan University (CMSRU) allows faculty to incorporate the latest technology into medical training and education for our students. Through robust faculty partnerships, the simulation team maintains the highest levels of simulation education and is engaged with student education throughout the medical education continuum. Medical students are able to learn in a fully interprofessional environment where they have educational opportunities with actively practicing physician faculty, community physicians and allied health partners. Simulation Center Faculty are nationally recognized as experts in simulation-based education and for their research in medical education and in simulation education.
Undergraduate Medical Education
Simulation based medical education opportunities are interactive and holistically designed to provide the following:
All objectives are closely aligned with CMSRU core competencies which include the Accreditation Council for Graduate Medical Education (ACGME) core competencies
Crisis Resource Management (CRM) education is woven within the curriculum with the goal of improving patient safety and quality initiatives.
Standardized Patients (SPs) and high-fidelity Manikins bring essential skills and procedural knowledge to the forefront.
Specific curricula in professionalism and humanism are offered through simulation programs
Emphasis is on the acquisition and refinement of medical and technical skillsets as well as communication, behavioral and leadership skills
Basic physiologic and pathophysiologic principles and treatment of permutations are taught using simulation to reinforce lecture-based education
Programs are geared to assist with transitions to clerkships to prepare new third year students, and to prepare fourth year students for internship and residency
Mock codes and emergencies using simulation
Graduate Medical Education
Patient safety and quality care is at the forefront of simulation education for Graduate Medical Education (GME). The Sim Center plays a vital role in the PGY1 new arrival "Bootcamp" as well as procedural, interprofessional skills, and crisis management education. Each residency provides programs for their residents. Examples of educational offerings include:
Point of Care Ultrasound (POCUS) - Ultrasound has dominated the landscape and seen exponential growth over the past year in educational programs for medical students, residents and fellows, and practicing physicians. All current residencies use ultrasound in their educational programs at the simulation center.
Virtual Reality education for surgical residencies
Procedural education for high-risk procedures
Education for complex, high-hazard scenarios, examples are:

Post-partum hemorrhage scenarios
Difficult Airway
Cardiac Arrest (Adult and Pediatric)
Nursing and Allied Health
Physician extenders (Physician Assistants and Advanced Practice Nurses), multiple nursing departments (Trauma, Pediatrics, NICU) and Emergency Medical Services (EMS) all use the Sim Center for training.  The Sim Center is proud to also provide training and education to our nation's military and State Department personnel. Along with the education received, these teams aid in interprofessional education, working to produce high functioning clinical teams.
Standardized Patients
---
Standardized Patients (SPs) are lay people with whom healthcare students can practice their interviewing, physical exam, communication and professionalism skills. These highly trained individuals provide the opportunity for students to safely practice and receive feedback from faculty, fellow students and the SPs.  For some programs, SPs assist students in learning how to do a specific physical exam or type of medical interview. For more complex learning activities and assessments, SPs are trained extensively in a richly detailed patient case, and they learn all of the medical details about the chief concern, the patient's past medical history, their family life and social history. SPs may also be trained to portray the physical findings of the case and to assess a student's clinical skills utilizing different types of rating scales and rubrics.
Are you interested in applying to become a Standardized Patient (SP)?
SPs come from all walks of life and represent the diverse spectrum of patients that today's medical professionals see in their practice.
If you are interested in becoming an SP, please click here to download and complete the SP application. The application may be sent back by email (simpatient@rowan.edu) or mail to the address below:
Standardized Patient Program
201 South Broadway
CMSRU Simulation & Clinical Skills Center
Camden, NJ 08103