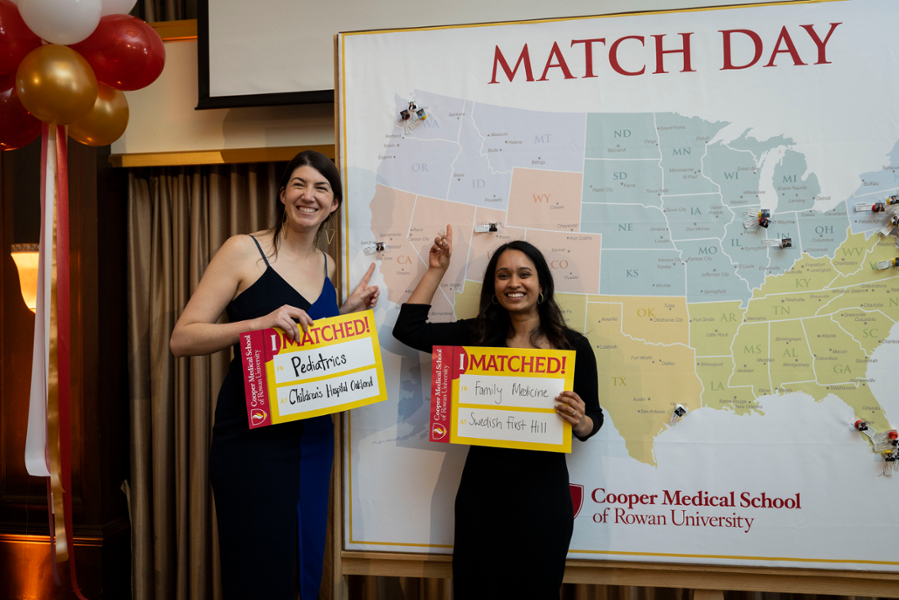 The Addiction Medicine and Harm Reduction interest group aspires to engage and educate students in providing informed, patient-centered medical care for patients with substance use and substance use disorders. The group welcomes students interested in Addiction Medicine in addition to students with a general interest in harm reduction practices which can be incorporated into virtually any field or speciality. Topics explored include implementing harm reduction practices within the Cooper Rowan Clinic and clinical rotations, exploring community resources for PWUD, treating our patients with SUD in the hospital, and medication assisted therapy (MAT). The group also aims to provide advocacy for this patient population and to provide exposure to the growing field of Addiction Medicine as a medical speciality, and to connect students with faculty and mentors. 
The Anesthesiology Interest Group is an organization created to stimulate interest and stay abreast of current information in the field of anesthesiology and the subspecialties within. The goal of the group is to familiarize first, second and third year medical students with the field of anesthesiology and connect them with physicians and residents through informational sessions and other events held throughout the year.
CMSRU's Cardiology Interest Group (CIG) is a student-run organization charged with exposing CMSRU students to the field of cardiology. CIG introduces student members to the specialties and subspecialties that can be pursued by a residency or fellowship program in cardiology, and provides educational enrichment opportunities to members through the review of key topics and literature in cardiology and presentations by key leaders in the field of cardiology.
The Dermatology Interest Group was created to provide a support group for students considering a career in dermatology and to provide opportunities for students to interact with other students and members in the field of dermatology.
The Diagnostic Radiology and Interventional Radiology Interest Group aims to help students learn more about the field of interventional radiology, including paths to a career in this field, and review and discussion of common procedures performed by IR doctors. The group hosts educational meetings, activities, and facilitates opportunities to get involved in local meetings and conferences.
The Emergency Medicine Interest Group at CMSRU aims to foster early exposure to the field of EM through shadowing opportunities, career mentorship, procedure workshops, simulations, and regular interface with faculty and residents from the CUH ED. Members have access to opportunities such as the annual Night in the ED, didactic sim labs, CUH ED grand rounds, shadowing sign-ups, and NJ ACEP regional meeting schedules. Established in CMSRU's first year, EMIG is proud to maintain its tenure as one of the most active interest groups on campus.
The ENT (Otolaryngology) Interest Group aims to provide exposure to the field, offer networking opportunities with faculty, research opportunities, and practice with physical examination and surgical skills. If you are interested in this competitive specialty, this group is highly recommended during your pre-clinical years.
The Family Medicine Interest Group (FMIG) was created to help CMSRU students learn more about the practice of family medicine and how to get into family medicine as a specialty. The group hosts educational events about family medicine throughout the year, including events with outside speakers, Cooper family medicine practitioners, and various sub specialists. The group also facilitates shadowing, mentoring and research opportunities for students with Cooper family medicine practitioners.
The Gastroenterology (GI) Interest Group at CMSRU is dedicated to enhancing exposure to the field of Gastroenterology through shadowing opportunities, webinars, fundraisers, career mentorship and interactions with professionals. Members work closely with the Clinical Nutrition Interest Group to gain a better understanding of the human body. Over the past few years, the GI interest group has played a major role in the national Spin4 Crohn's and Colitis Ride.
The Hematology-Oncology Interest Group (HOIG) aims to foster interests in careers in Hematology, Oncology, or any related field. Journal clubs are scheduled focusing on topics in the field, discussions/panels with practicing physicians regarding everything from their lifestyles to their career paths to their research, and volunteering/philanthropic events.
The Infectious Diseases (ID) Interest Group aims to provide CMSRU students with opportunities to further explore a career in ID. The goal of this group is to connect students with ID physicians in order to gain mentorship and learn more about the field. Students also learn about research and patient care, lifestyle in ID career paths and the residency application process.
The Internal Medicine (IM) Interest Group fosters and develops students' curiosity regarding the knowledge of physical diagnosis, clinical reasoning, and interactions with patients. Our group offers collaborative opportunities for students to cultivate practical skills and formulate their career aspirations, including teaching rounds in the hospital, evening sessions in the Simulation Lab, the Resident "Buddy" Program, and discussion sessions with physicians. Through these and other experiences, the Internal Medicine Interest Group helps students establish and expand their skills and understanding of essential aspects of practicing medicine that they can apply now and in the future.
The Neurology Interest Group aims to provide CMSRU students the opportunity to learn more about the subspecialty of Neurology. This group is committed to exposing interested students to the various facets of Neurology via organizing lectures and panels with accomplished neurology residents and attendings, scheduling inpatient and outpatient shadowing opportunities for students, and pairing interested students with mentors in Neurology. The Neurology Interest Group also reinforces important Neurological concepts for all students, including the Neurological physical exam, and sustaining a close mentoring relationship with the Neurology department at Cooper University Health Care.
The goal of the Neurosurgery Interest Group is to increase the interest in the field of neurosurgery while exposing students to the various subspecialties in the field. Shadowing opportunities, networking and mentorship advice is available to members.
The focus of the Obstetrics and Gynecology Interest Group is to explore OB/GYN fields, connect students with mentors, and provide shadowing opportunities. Students are in close contact with various members of the OB/GYN department at Cooper University Health Care, frequently networking and attending department events, such as Grand Rounds and journal clubs. The group collaborates with various other student groups at CMSRU, including the American Medical Women's Association, Medical Students for Choice and the Family Medicine Interest Group.
The Ophthalmology Interest Group (OIG) was created to provide students with resources and opportunities to further explore the incredible field of ophthalmology. For interested students, the OIG is an outlet in which interested students can explore this field. The group hosts an annual lecture from current ophthalmologists and residents, develops shadowing opportunities, and facilitate several hands-on dissection events throughout the year.
The Orthopedic Interest Group (OG) is dedicated to providing mentorship, research opportunities, shadowing, board review, and journal clubs to CMSRU medical students interested in the Orthopedic specialty. Applying for Orthopedic residency is a competitive process that requires dedication and proactive planning to be successful. The OG works closely with Cooper residents and faculty to provide the necessary tools and opportunities for students to become strong applicants.
The Starry Sky Society's Mission is to cultivate interest in the field of pathology and provide students opportunities to explore careers in pathology, facilitate research experiences for the advancement of pathology as a field, provide students interested in pursuing pathology as a career with the resources necessary to be successful in residency placement, with strong emphasis on networking and leadership opportunities and to offer educational sessions in the field of pathology through workshops, lectures, topic discussions and shadowing experiences.
The CMSRU Pediatric Interest Group aims to aid its student members in the pursuit of professional goals, expand our current knowledge about pediatrics and its subspecialties and improve the health and wellness of children in Camden, NJ. Meetings range in content from pediatric faculty question-and-answer panels to planning service opportunities for Camden's children. Other resources include faculty shadowing opportunities and pediatric-friendly service opportunities, among others.
The Plastic Surgery Interest Group is designed to connect students at CMSRU with physicians in the field of plastic surgery at Cooper University Health Care. Students have the opportunity to network with surgeons, learn about the field and how to prepare for a career and research opportunities.
The Physical Medicine and Rehabilitation Interest Group is focused on providing students with more exposure to the field and opportunities to connect with physicians in the field.
The Psychiatry Interest Group aims to provide student members with research, shadowing, mentorship, and educational opportunities related to the specialty of psychiatry.
The goal of the Rheumatology Interest Group is to provide students with exposure to the field of rheumatology beyond what is offered in the curriculum. We aim to inform students about the field itself, what day to day life looks like and give some insight into a future in rheumatology. Through this group a relationship is built and maintained between CMSRU students and the Cooper Rheumatology department that allows for research collaboration, shadowing opportunities and overall mentorship.
The Rudolph C. Camishion Surgical Society endeavors to provide mentoring and career guidance to students who want to gain a greater exposure to the breadth of surgical fields. The Rudolph C. Camishion Surgical Society works to establish access to shadowing and research opportunities for medical students through coordination with CUHC residents and attending physicians. This group coordinates panels and discussion forums and provide students with a "CMSRU Surgery Alumni" database. Each year, the society collaborates with the other area medical schools for a surgery symposium. The Rudolph C. Camishion Surgical Society also organizes surgical skills workshops throughout the year, including suturing, anatomy reviews, and imaging labs. The Rudolph C. Camishion Surgical Society also engages in outreach and community service projects to inspire Camden youth.
The Sports Medicine Interest Group is designed to introduce medical students to the field of sports medicine and to the different opportunities in which a student may pursue a career in the field. This interest group has developed a shadowing program, in collaboration with the Cooper Bone and Joint Institute, to allow for students to gain experience at Rowan University sporting events and other area high school events.
The Ultrasound Interest Group focuses on ultrasound imaging to reflect the increasing utility and career options that involve ultrasound.
The Urology Interest Group serves as an opportunity for CMSRU students to explore the plethora of engaging topics that define this branch of medicine. This group strives to include both those interested in potentially pursuing a career in urology, as well as those simply interested in learning more about urologic topics that they are certain to encounter in their clinical practice. By including both types of students, the hope is to spur discussion that yields a basic understanding of this particular branch of medicine, while also providing a forum for those interested in this as a career to expand on that basic knowledge.