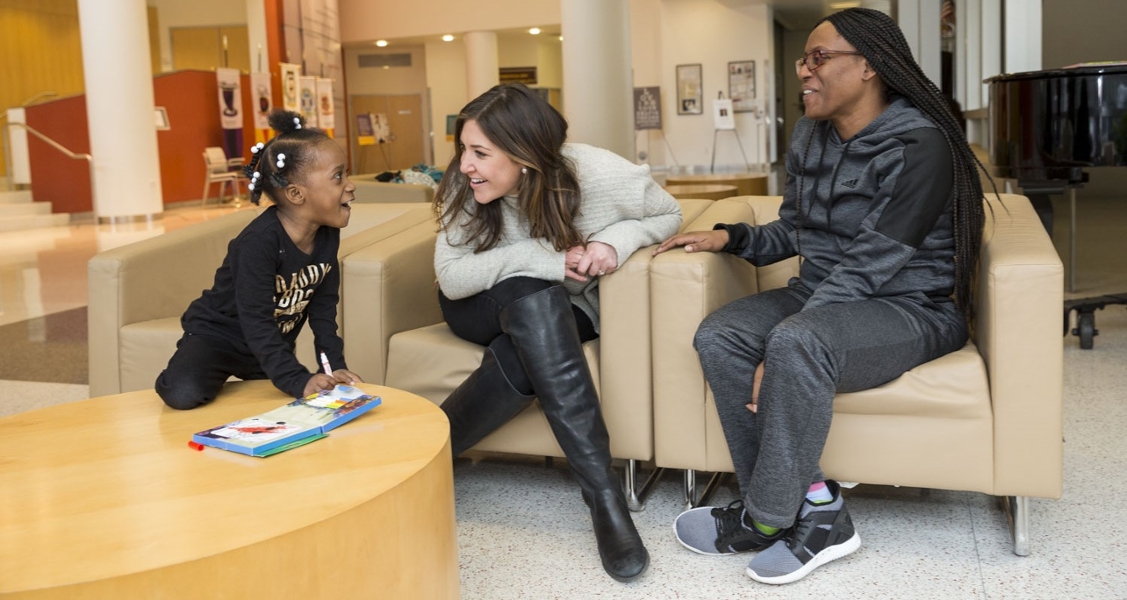 Health & Social Outreach
---
Cooper Medical School of Rowan University (CMSRU) students have the opportunity to become involved with organizations within the Health & Social Outreach service domain. Select a service opportunity below to read more details and to learn about how to get involved. 
The Camden Prenatal Collaborative provides critical support to high-risk, pregnant women in Camden.  CMSRU students serve as health coaches for patients of Cooper's Women's Care Center who have existing chronic health concerns and are in need of additional support and attention as they progress in their pregnancies and seek to experience safe and healthy deliveries.  As health coaches, students provide social support, customized nutrition, exercise, and assistance with other aspects of their care, as well as reinforcement of physician messaging and accompaniment to their prenatal visits. Collaboratively, Project Parenthood provides health education and parenting support to pregnant and mothers of newborns in a group setting through interactive presentations.     

CPC Contacts: Avery Gulino (M2), Ashley Russell (M2), Kelsey Murray (M2), Amy Bordogna (M2), Aleeza Shakeel (M2)
Project Parenthood Contacts:  Megha Andrews (M2) and Tyler Cholankeril (M2)
Day/Time: Various-mix of home visits, accompanied medical appointments, etc.
Cathedral Kitchen provides hot meals to the poor and hungry of Camden and beyond. Its meal program provides prepared meals Monday - Friday (dinner) and Saturday (lunch) to hundreds of guests each day. Since 2009, Cathedral Kitchen has operated a culinary arts training program to help prepare students for a career in food services. CMSRU students are called on a few evenings of each month to help seat guests, plate and serve meals to tables, and clean up after the service is finished. The opportunity allows students to meet and interact with the program's guests, most of whom are homeless, welfare recipients, disabled or the working poor.
Contact: Max Bokor (M2), Mia Lang (M2)

Frequency: Periodic afternoon 2-4 times per month (3:30 pm -5:30 pm). Calls for service will be e-mailed as they arise.
Location: 1514 Federal Street (10 minute drive from CMSRU)
Students who participate in this service learning experience will work within the Cooper Rowan Clinic, assessing and addressing the various social needs of our patients. You will become familiar with the extended social service agencies in and around Camden while directly providing help to patients dealing with issues relating to follow-up medical care, transportation, housing, food access, counseling, and other challenges that can impede health and wellness.
Contact(s): Nicole Debski (M2), Amy Gilligan (M2), Samantha Rosa (M2)
Frequency: Requires commitment of 1-2 shfits per month; M-Th 3:30pm - 6:00pm
Location: Cooper Rowan Clinic (3 minute walk from CMSRU)
Started in 2013 by CMSRU students, this program teaches English as a Second Language to Spanish-speaking Camden residents with limited or basic English ability. Using a specifically developed curriculum of language building tools and conversational English exercises and practice, the class works with students to allow them to communicate and interact with their children's teachers, their healthcare providers, and people they come across every day in the community.
Contacts : Priscilla Ahwin (M2), Julia Fleming (M2), Elena Sierra (M2), and Rishi Yerram (M2)
Frequency: 1 day/week (1 hour); day/time TBD
Location: Benson Street (2 minute walk from CMSRU)
Play Pals volunteers are medical students who are present on the pediatric unit every evening to spend time with hospitalized children who are alone. The goal of Play Pals is to supplement existing services, like Child Life and Hospital Volunteers, and to help support pediatric patients whose caregivers are restricted from the bedside. In addition, Play Pals volunteers help caregivers that are hesitant to leave their child alone in the hospital but could benefit from a much needed break.
Interested student must attend a short orientation by Child Life and NJ Cares (child abuse program) in order to participate.
Contact(s): Katherine Kaminski (M3), Lauren Thau (M3), Shivani Rao (M2)
Frequency: (2-hour shifts scheduled individually)
Location: Cooper University Hospital
The SERV Program operates under our partnering organization, the Center for Family Services. The program provides crisis intervention, counseling, and support to survivors of sexual violence, domestic violence, and human trafficking. Med students are trained as Volunteer Advocates, accompanying victims to the hospital or other service agencies and refer to other critical support services.

Contact(s): Meghna Bhattacharya (M3), Klaus Danjoli (M4), Lauren Thau (M3)
Day/Time: Varies (monthly shifts required to be a volunteer 'on call')
Sidekicks at Cooper Medical School of Rowan University works to create longitudinal connections between medical students at CMSRU and pediatric patients who have life threatening or chronic health conditions. Sidekicks at CMSRU is a branch of the original Sidekicks founded at University of Massachusetts Medical School, with a particular focus on Camden's health disparities and socioeconomic issues. The organization seeks to pair student Sidekicks with pediatric patients and their families for at least a year. Students will be expected to learn about their patient's condition to facilitate patient advocacy and community activism, explore the socioeconomic and health disparities of patients in Camden, and observe the complexity of care required by pediatric patients with life threatening or chronic illnesses. Students will attend monthly meetings at CMSRU to discuss their experiences with the group, present their family's case, or learn about pediatric care through physician driven discussion.
Contacts: Alex Grafstrom (M2), Caroline Gutowski (M2), Lucinda Lau (M2), Logan Napoli (M2), Joanna Sieber (M2)
Location: Cooper University Hospital (inpatient and outpatient)
Frequency: Determined by medical student and Sidekick patient and family
Street Medicine Outreach directly provides homeless community members in Camden with information about Project HOPE, a local primary care clinic for the homeless, and other community resources and services. The program also tries to provide direct support in getting identification and finding legal assistance, when possible. Street Medicine Outreach members also advocate for homeless services within the wider community in Camden. In pursuit of this goal, the group functions as a resource-gathering entity. Finally, Street Medicine Outreach seeks to increase the efficacy of efforts by collaborating with partner organizations and other pilot initiatives in order to find the best way to help the homeless community.
We welcome all CMSRU students and clinical faculty members to join our weekly outreach efforts. A mandatory in-person training is required for all volunteers, however, in order to participate in this service group and best prepare you for this experience.
Guidelines for med student volunteers
Guidelines for clinician volunteers
Contact(s): Hannah Diasti (M2), Daniel Guirguis (M2), Sarah Levine (M2), Mitch McDaniels (M2), Dante Terracciano (M2)
Contact E-mail: CMSRUStreetMedicine@gmail.com
Frequency: Saturdays 9 a.m. - 12 noon
Location: Varies - we walk/drive throughout the community doing direct outreach.
VOICE was started by CMSRU students who are military veterans or are currently on active duty. The mission of the program is to provide outreach and support to veterans of the Volunteers of America's Home of the Brave housing program. Whether providing health educational sessions or storytelling narrative sessions, students have learned to connect and support some of their most vulnerable fellow vets.

Contact(s): Carol Cheney (M2) and Daniel Ha (M2)
Day/Time: Every other Monday evening
Location: VOA Home of the Brave (5-7 min drive)