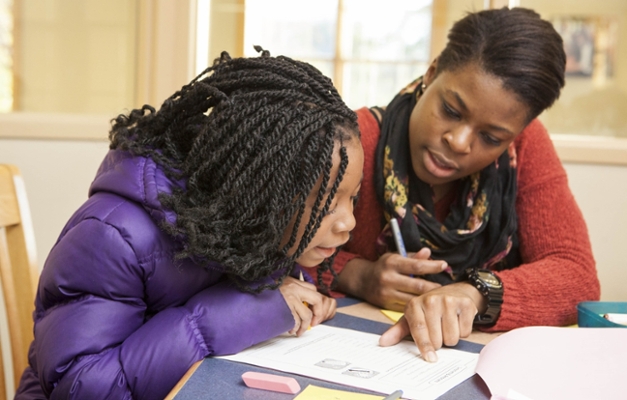 Tutoring & Student Mentoring
---
Cooper Medical School of Rowan University (CMSRU) students have the opportunity to become involved with organizations within the Tutoring & Student Mentoring service domain. Select a service opportunity below to read more details and to learn about how to get involved. 
CAMP serves to provide Camden area high school students, interested in pursuing college, with tutoring, SAT prep, as well as one-on-one mentoring around college applications and career counseling. Every other week, participating high school students come to CMSRU, where they receive enrichment lectures and education, and spend time with their med student mentor going over their academic work. During alternate weeks, each pair keeps in contact and often meets individually. Mentors are charged with guiding and supporting their students through the college application process, preparing for the transition to the college environment, as well as helping them set career goals. As students enter their college years, many maintain contact with their mentors to receive ongoing support beyond their CAMP involvement.
Contact(s): Isaiah Hughes (M2), Nicole Leonick (M2), Ian Millstein (M2), and Amonte Simmons (M2)
Frequency: Every other Monday afternoon
Location: CMSRU
Upward Bound is a federally supported program that provides opportunities for students from low-income families and/or first generation college bound to succeed in the college environment. The Upward Bound program at Rowan Camden is designated specifically for English Language Learners-students from Camden high schools who participate in their school's bilingual or ESL program. CMSRU students provide support to the Saturday academic classes, teaching science to students in the program. This service learning opportunity encourages medical students with formal teaching experience to continue to use their teaching skills, while also serving as an important resource to these students.
Contact: Taylor Aaserud (M2), Gabal Kaur (M2), and April Pivonka (M2)
Frequency: Saturday mornings
Location: Rowan-Camden 200 N. Broadway (10 minute walk from CMSRU)
Awards
ProjectMED Video Challenge Winners
"Science on Saturdays: Teaching an Enrichment Science Laboratory Class to Camden High School Students"

Cooper Medical School of Rowan University Wins National Video Challenge
Cooper Medical School of Rowan University initiated the Primary Urban Partnership (PUP) in 2011. The goal of this program is to provide elementary school students early exposure to health professions. CMSRU students, faculty, and staff conduct bi-monthly sessions that engage students in health related subjects. The sessions range from large group interactive sessions to small group reading activities.
Contact(s): Angella Baby (M2) and Arjun Kumar (M2)
Day/Time: TBD
______________________
PUP is supported, in part, by generous contributions from the Schwartz Foundation and Townsend Press. For further information on the PUP program please contact our office 856-956-2773.
The Junior Urban Medical Pioneers (JUMP) High School Academy is a CMSRU run program for high school students from underrepresented or financially disadvantaged backgrounds who have a strong interest in math and science. Students are nominated for the program by their guidance counselors and/or science department and are provided hands-on activities and interactive learning sessions that expose them to applied science, and provide an overview of a variety of science-related and healthcare careers. Medical students participate in the program by teaching nutrition sessions, leading discussion and assisting in workshops.
Contact: 
Mike Green
Program Coordinator
greenm@rowan.edu

Frequency: 1 Saturday each month (9:00am - 1:30pm)
Location: CMSRU
Tutor Time is a student mentoring program that takes place in the Ferry Avenue Library, the last public library open in the city. Three days a week, kids from the surrounding neighborhood come to the library for homeworktutoring, healthy snacks, and relationship building/mentoring from CMSRU students.
Contact: Arjun Kumar (M2), Shawn Philip (M2), and Shivani Raizada (M2) 
Frequency: Every Tuesday, Wednesday, Thursday, 3 pm - 6 pm
Location: 852 Ferry Avenue (8 minute drive from CMSRU)