CMSRU students help English language learners in Camden
---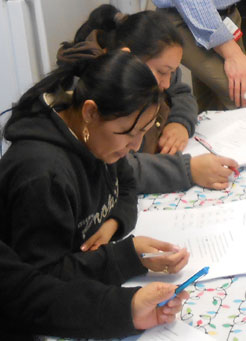 Every Thursday, following their morning basic science lectures, three first year medical students from Cooper Medical School of Rowan University (CMSRU) walk a block to the Center for Family Services' Promise Neighborhood Family Success Center, where they work with five Spanish-only speaking women, teaching them basics of conversational English.
The students, Cameron Roth, Christopher Perez and Jefferson Benites, teach English as a Second Language (ESL) class as their service learning project – 40 hours per academic year of non-medical related volunteer work in the City of Camden that is required of every CMSRU medical student. The class was initiated by the students, who believed there were many Camden residents who would benefit. It is free of charge and anyone interested in learning English is welcome, regardless of their experience with the language. All of the current participants are mothers, and they are all beginner English speakers.
"Learning English will really help these women navigate life in the United States, and help them feel more empowered in English-only situations, such as talking to their children's teachers or their families' doctors," explained Mr. Roth, who minored in Spanish as an undergraduate at Vanderbilt University. After college, Mr. Roth honed his Spanish skills as a year-long volunteer in Guatemala, where he taught English to middle school children. "We hope this class gives them confidence to engage outside of their Spanish-only communities, which will ultimately make them feel more comfortable in this country."
For Mr. Benites, an immigrant from Peru, participating in this type of service learning was a perfect fit. "When I came to the United States, I had to learn the language, too. I understand firsthand the challenges these women face as non-English speakers. I think they like knowing that I went through what they are going through right now. We can definitely relate to each other."
Mr. Perez, whose parents are Puerto Rican and Dominican, grew up in a bilingual household in New Jersey. But he, too, understands the challenges of not knowing the language. "My grandmother speaks Spanish only, and when she visits us each summer, I see her struggle," he said. "Learning a new language, especially as an adult, is not easy. But these women, all of whom are busy mothers, are committed. I'm happy to help Camden's Hispanic and Latino community in this way."
According to Jocelyn Mitchell-Williams, MD, PhD, CMSRU's Associate Dean for Diversity and Community Affairs, about half of the medical school's students speak a second language – an asset in a diverse community like Camden, where 47 percent of the population is Hispanic or Latino.
"The ESL class is just one example of how our students are having a direct, positive impact on this community," noted Dr. Mitchell-Williams. "There is much optimism about the future of Camden, and I'm proud that CMSRU and our students are having an influence by living here, studying here and giving so much back to this city."
---
About Cooper Medical School of Rowan University (CMSRU)
CMSRU opened in summer 2012. It is the first new medical school in New Jersey in over 35 years and the only four-year MD-granting medical school in South Jersey. Rowan University and The Cooper Health System partnered in June 2009 to establish CMSRU. Located in Camden, NJ, CMSRU will help address the physician shortage locally and nationally, and improve healthcare throughout the region. CMSRU received preliminary accreditation from the Liaison Committee on Medical Education (LCME) in June 2011.