Cooper Medical School of Rowan University wins national video challenge
---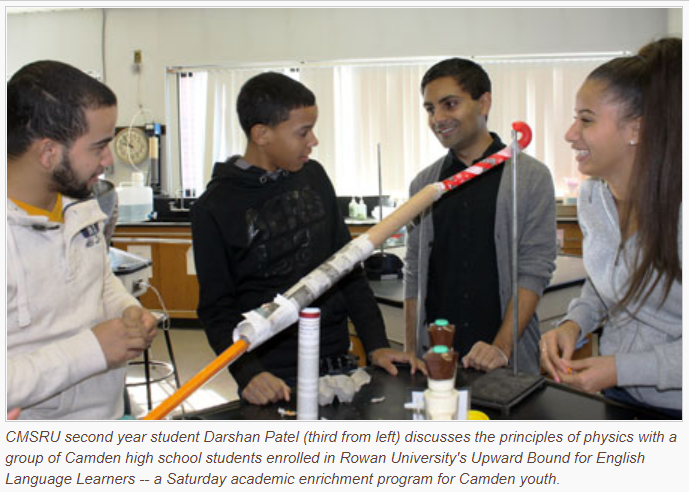 Cooper Medical School of Rowan University (CMSRU)
second year student Darshan Patel (third from left) discusses the principles of physics with a group of Camden high school students enrolled in Rowan University's Upward Bound for English Language Learners – a Saturday academic enrichment program for Camden youth.
A video submitted by students from CMSRU won first place in a national video challenge by the Association of American Medical Colleges (AAMC).
As grand prize winner, the school will be awarded $7,000 to use for supplemental high school science classes taught by CMSRU students through Rowan University's Upward Bound for English Language Learners program in Camden.
The award is the Grand Prize for "ProjectMED (Motivate, Engage, and Develop) for the Future of Health Care," the AAMC's annual video challenge. The CMSRU video was one of three finalists in the competition, which invited schools nationwide to develop 5-minute videos depicting an idea to work with K-12 public education to increase diversity in the health professions.
According to Jocelyn Mitchell-Williams, MD, PhD, CMSRU's Associate Dean for Diversity and Community Affairs, a grassroots effort led by the CMSRU to promote the video resulted in an unprecedented groundswell of support from throughout the region.
"From Camden to Glassboro and across the region, people were logging on to vote for our students' video," she said. "This competition is a really big deal, and as a new medical school, just being named a finalist was significant. We were up against some very large and well-established universities, and we won! I couldn't be more proud."
CMSRU students and former high school teachers Caroline Kaigh, Darshan Patel and Denise Garcia produced the video about Upward Bound's Science on Saturdays. The three medical students serve as volunteer teachers for the program, providing supplementary science education to high achieving, English-language learners who attend high school in the city of Camden. The curriculum offers science enrichment and encourages the teens to pursue careers in science, technology, engineering and mathematics. Upward Bound is a federal grant-funded program at Rowan that offers educational support to high school students from disadvantaged backgrounds, specifically those from non-English speaking households.
With the award, Kaigh, Patel and Garcia will expand the Science on Saturdays program to incorporate engaging labs and cutting-edge science, including dissections, gel electrophoresis, or microscopy investigations.
Science on Saturdays is just one of the many service learning projects in which CMSRU students have become involved since the first students arrived in 2012. CMSRU is proudly mission-driven, focused on developing highly skilled and socially conscious physician leaders who value a patient-centered, team approach to health care. The curriculum includes 40 hours of service in Camden per student each academic year. During the 2013-2014 academic year, over 5,000 service hours were completed by CMSRU's 114 students.