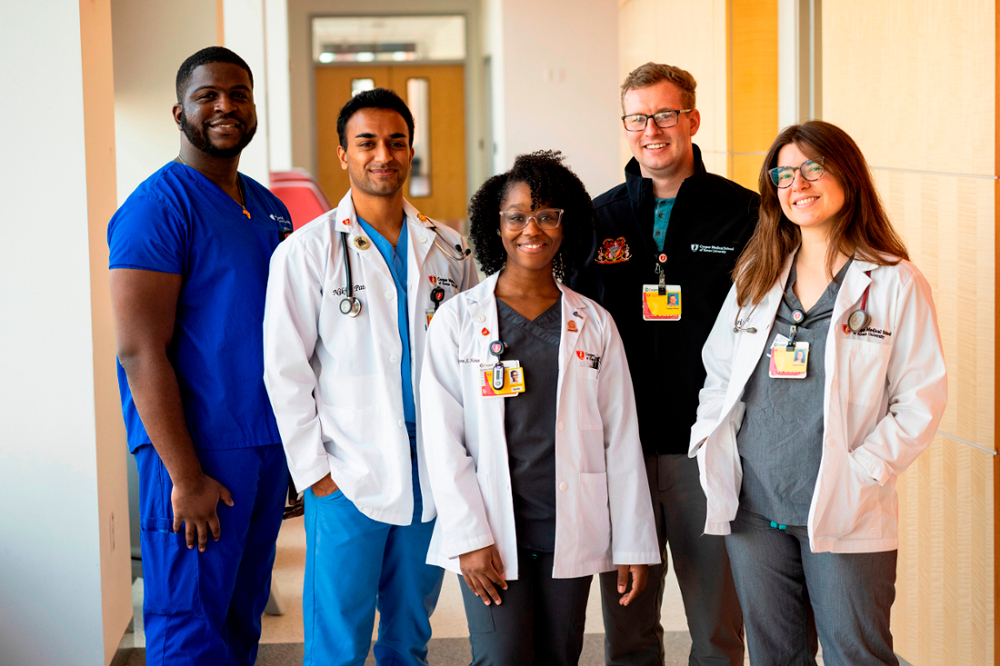 Why CMSRU?
---
A mission-driven medical school
At Cooper Medical School of Rowan University (CMSRU), our team is committed to the education of physicians for the 21st century and the ever-changing healthcare environment. Every aspect of CMSRU derives from our mission, an overarching principle of which is providing a humanistic education in the art and science of medicine. This approach to medical education leads to development of competent, confident and compassionate physicians. Engagement with our surrounding community of Camden, New Jersey, is another signature element of our mission. An intentional focus during the creation of CMSRU as a "new" medical school was the establishment of a culture that embodies the concept of a school with a "soul." Through our mission-driven, holistic admissions process we have accomplished this, with matriculating students bringing a wide variety of backgrounds and experiences that contribute to diversity and enhance the learning environment for all. 
"Camden is our classroom. Camden is our home." 
CMSRU is located in Camden, NJ, a city where many residents face daily challenges in obtaining access to basic needs, education and healthcare. CMSRU is helping to close this gap by educating new physicians, who understand the needs of their community, and by the creation of new programs through which students and faculty provide care, resources and support services. Already noted as a "hot spot" for progressive approaches to addressing community health, Camden provides an ideal setting for students to experience diverse cultures with a range of social, emotional, and medical needs.
Innovative curriculum
As noted above, our curriculum arises from our mission and features a four-year integrated experience that continuously blends basic science concepts with clinical medical knowledge. To accomplish this, biomedical science and clinical faculty participate in both pre-clinical courses and clinical clerkships.  Students are actively engaged in their education at all levels, with a focus on critical thinking, problem solving and self-directed learning skills. The CMSRU curriculum features a variety of small group learning sessions, which allow students to develop communication, leadership and teamwork skills. An early and ongoing exposure to clinical encounters provides an opportunity for continuity of patient care. Through the Capstone program, all students become involved in the creation of new medical knowledge by designing their own original scholarly projects.
Phase I Curriculum
The Phase 1 curriculum spans the first two years of medical education and consists of a series of systems-based modules, as well as year-long longitudinal courses. A highlight of the Phase 1 curriculum is the active learning group (ALG). The ALG format provides case/problem-based small group learning and allows students and faculty facilitators to collaborate in the exploration of simulated patient cases.  Clinical experiences, including those at our student-run Cooper Rowan Clinic, begin in the 5th week of the first year and continue throughout the entirety of the first two years. Embedded in the weekly Phase 1 schedule is dedicated self-directed learning time, which allows students ample time to reflect upon their experiences and focus their efforts on their own specific learning needs to further enhance their understanding of curricular content. 
Phase II Curriculum
The Phase 2 curriculum spans the third and fourth years of medical education. The third year at CMSRU consists of a series of six-week clerkships, which allow students to explore a variety of medical specialties, including Adult Primary Care (Family Medicine and Internal Medicine), Pediatrics, Neurology, Obstetrics and Gynecology, Surgery, and Psychiatry. These core clerkships allow students to develop their patient care skills and apply the knowledge they have acquired during the first two years of medical school. The third-year clerkships provide both hospital-based and ambulatory patient experiences. Third-year students also continue their participation in the Cooper Rowan Clinic, serving as team leaders and mentors for first and second-year students.  
The fourth year at CMSRU gives students great flexibility in customizing their own curriculum, preparing them to pursue their desired future career path. All students complete four required clerkships, which include a Sub-internship in the specialty of their choice, as well as Emergency Medicine, Critical Care, and Chronic Care rotations. The rest of the fourth year consists of 20 weeks of elective time, which may include rotations at Cooper University Health Care, away rotations at other accredited institutions in the United States or Canada, or even selected global health experiences.
Service learning
Because of its strong alignment with our mission, community engagement in the form of service learning is a required component of the CMSRU curriculum. The term service learning implies more than simply volunteering in the community, instead it refers to the meaningful reflection that accompanies these experiences and allows students to gain insight into the social determinants that can adversely affect the health and health maintenance of vulnerable populations. Service learning involves both medical and non-medical activities. The medical portion of service learning is accomplished by providing medical care to patients in the student-run Cooper Rowan Clinic. Non-medical service learning occurs through partnerships with various community programs and organizations that directly serve Camden residents. Through their service learning, students build proficiency in cross-language communication, education and teaching skills, cultural competency, relationship building, collaboration, and active listening. 
Humanism in Medicine
Providing a humanistic education in the art and science of medicine is an overarching mission of CMSRU. Our goal is to prepare our students to become future physician leaders, who are not only excellent clinicians, but who will also advocate for their patients. Through curricular and extracurricular programming, the Center for Humanism helps to develop attitudes and behaviors that foster humanistic care. 
State-of-the-art medical education facilities
The CMSRU Medical Education Building, located on the Cooper Health Sciences Campus in Camden, NJ, opened in July 2012. Designed for the school's curriculum, the building includes spaces and technologies to support faculty and students in their educational process. The building features 27 active learning rooms, a 250-seat auditorium, research and teaching laboratories, and dedicated space for student wellness activities. In September 2019, a four-story Joint Health Sciences Center (JHSC) opened in Camden, NJ. The building includes CMSRU's state-of-the-art Clinical Skills and Simulation Education Center, as well as laboratory, instructional and research space for Rowan University and Rutgers University. The Clinical Skills and Simulation Education Center develops and supports programming designed to teach and enhance clinical competence skills, teamwork, interdisciplinary partnership, and interprofessional collaboration. The Center utilizes simulation modalities such as standardized patients, task trainers, and high-fidelity mannequins to realistically replicate the clinical environment. To advance the field of healthcare simulation, the SIM Center conducts innovative research into patient safety, medical education, simulation theory, practice, and technology.