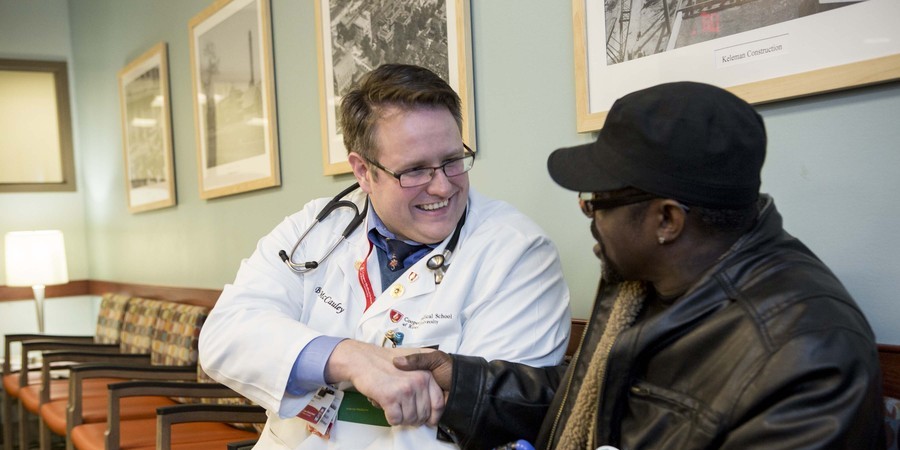 The Center for Humanism
---
The physician leader cares deeply about having a positive impact on others and on the community. A physician leader is knowledgeable, confident, dedicated and compassionate; someone who inspires other physicians to act similarly. 
Through its Center for Humanism, Cooper Medical School of Rowan University (CMSRU) nurtures the natural idealism that most medical students have when they begin their training and cultivates opportunities for students to serve as role models. There is an equal emphasis on both interpersonal and basic science skills ensuring that students retain and value the humanistic aspect of medicine while becoming superb clinicians. The social context of illness and treating patients with compassion, respect and dignity are seamlessly woven into the curriculum from the very beginning – after the first month, our students volunteer hours in the Cooper Rowan Clinic, meet with patients, engage them, gather patient histories, and build relationships with the patients personally and for medical purposes. 
The Center for Humanism focuses on education and research reflecting the CMSRU's mission of providing humanistic education in the art and science of medicine, including excellence in patient care and the core values of empathy, compassion, and ethics throughout the formative four years of medical school at CSMRU and beyond.  
In October 2015, the Rona Stern Staut Research Professorship in Humanism and Bioethics was established with gifts from Marc and Eva Stern and the Rona Stern Staut Foundation. Your additional consideration and commitment in support of the Center for Humanism, Professionalism, Medical Ethics and Law, as well as the Research Professorship in Humanism and Bioethics is greatly appreciated.