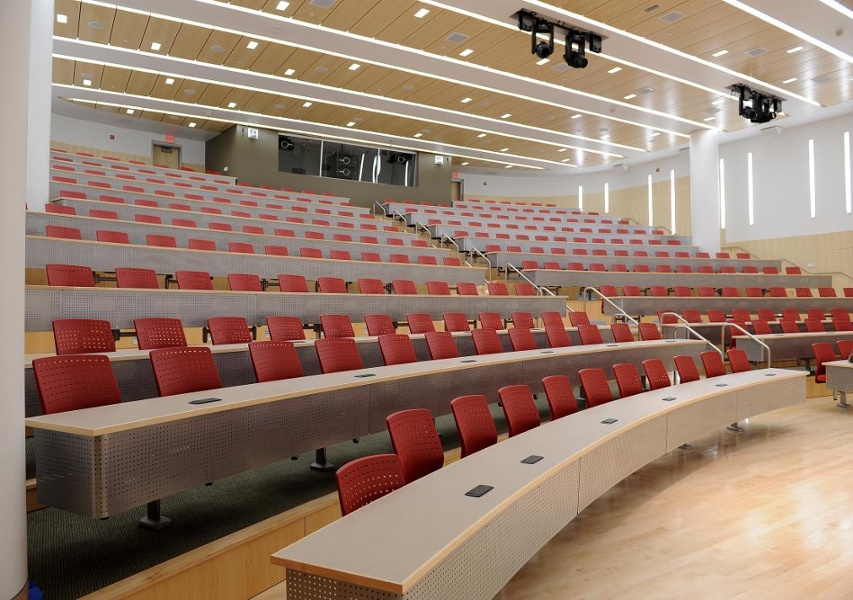 Auditorium Chairs
---
"Take a seat!" and name a chair in the CMSRU Auditorium
This is a special initiative that invites donors to have their names, or the names of their choosing, placed on the chairs in the CMSRU Auditorium. Each named Chair helps a student, because all proceeds benefit CMSRU's Scholarship Fund.
Our 260-seat Auditorium is fully ADA compliant and features state-of-the-art A/V and educational technology. The room is used for everything from lectures and Grand Rounds to special guest speakers' presentations and other special events.  We invite you to take a photographic tour below.
Your 'Chair' is an investment in CMSRU's Scholarship Fund, which is one of the chief ways we can help alleviate debt anxiety in medical students.
Frequently Asked Questions
Yes! Seats will be available on a first come, first served basis, so if you want a specific seat, please do not delay. We cannot guarantee that a specific seat will be available or hold/save seats.
Funds raised through the "Take a Seat" initiative will enhance the CMSRU Scholarship Fund. Scholarships can enable deserving applicants to enroll in medical school despite financial need; a scholarship can also greatly reduce a student's financial stress and debt anxiety, allowing them to focus their best efforts on academic pursuits. The result? CMSRU will educate and graduate physicians who are not only kinder and more compassionate, but who are also more likely to pursue the specialty of their dream.
Yes! There are no goods or services provided to you in exchange for your participation.
Your support will be announced on a plaque mounted on or "near" your seat. Plaques will remain in place for the lifetime of the CMSRU Auditorium.
No. Participating in "Take a Seat" does not guarantee specific seating for events, lectures or other affairs that take place in the CMSRU Auditorium.
Seats in the first four rows of the Auditorium may be named with a minimum gift of $3,500. All other seats may be named with a minimum gift of $2,500. Contributions above $3,500 will gratefully be applied to the CMSRU Scholarship Fund. Payments may be made over as many as five years at the low cost of $58.33 per month ($3,500 chair) or $41.66 per month ($2,500 chair).
"Take a Seat" gifts can also be wrapped into larger gifts or pledges.
Naming a Chair in the CMSRU Auditorium
If you wish to make a gift via credit card donation, please visit the Rowan University Foundation's website.
If you wish to make a gift via check, please print and fill out this form. You can mail this form, along with your check, to:
Cooper Medical School of Rowan University
401 South Broadway
Camden, NJ 08103 
Please note: You will be contacted for your desired plaque wording.