Lawrence Weisberg, MD
---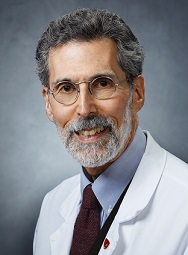 Associate Dean for Professional Development
Professor of Medicine
Dr. Weisberg is Professor of Medicine at Cooper Medical School of Rowan University (CMSRU), and Head of the Division of Nephrology, Cooper University Health Care. In his role as Associate Dean for Professional Development and Associate Director of the CMSRU Center for Humanism, he is responsible for ensuring a positive learning environment for our students, and fostering a humanistic and professional culture in the school and health system.
Dr. Weisberg received his AB degree from Washington University in St. Louis, and graduated with honors from Temple University School of Medicine in 1981, where he was elected to AOA. He completed his training in both Internal Medicine and Nephrology at the Hospital of the University of Pennsylvania, and in 1987, joined the faculty of Robert Wood Johnson Medical School - Camden as Assistant Professor of Medicine in the Division of Nephrology. He was director of the fellowship program in nephrology at Cooper University Hospital from 1989 to 2009.
Dr. Weisberg has been the recipient of numerous medical student teaching awards over the years. In addition, he was awarded the Internal Medicine Housestaff Teaching Award in 1994, and the Sol Sherry, MD, Teaching Award in 1998. He was elected to the Master Educators Guild of the University of Medicine and Dentistry of New Jersey in 2004. Dr. Weisberg is past president of the Nephrology Society of New Jersey. He is a Fellow of the American College of Physicians, and a Fellow of the American Society of Nephrology.