Amit Joshi, MD, FACS
---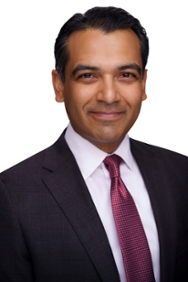 Associate Dean for Graduate Medical Education
Professor of Surgery
Amit R.T. Joshi, MD, FACS, is Professor of Surgery and Associate Dean for Graduate Medical Education at Cooper Medical School of Rowan University (CMSRU) in Camden, NJ. Until 2021, he was the Residency Program Director and Vice-Chair for Academic Affairs for the Department of Surgery at Einstein Healthcare Network in Philadelphia.
At Brown University's eight-year program in Liberal Medical Education, he received his BA in Music in 1997 and MD (with academic distinction) in 2001. He completed his surgical residency at New York Presbyterian/Cornell and fellowship in minimally invasive surgery at North Shore/Long Island Jewish Hospitals. He is certified by the American Board of Surgery.
A general surgeon at Cooper University Health Care, Dr. Joshi's clinical interests include all of general surgery with a focus on hernia repair (particularly using minimally invasive techniques). 
His principal research interests are resident recruitment and curricular development within surgical training. He has authored more than 100 scientific manuscripts and presentations. 
He holds leadership positions in several surgical organizations:
Editor-in-Chief of the American Board of Surgery's Surgical Council on Resident Education (SCORE)—which is the national curriculum for general surgery Board of Directors of the American Board of Surgery. He serves on its audit committee, the Diversity, Equity, and Inclusion Task Force, and the Strategic Planning Committee. Board of Directors of the Association of Program Directors in Surgery (APDS). He serves on the executive committee and has previously led the Education Division. Executive Committee, Educational Quality Improvement Project (EQIP) of the APDS Board of Governors of the ACS, serving on the Continuing Education workgroup Past-President of the Philadelphia chapter of the American College of Surgeons (ACS) Editorial Board, Journal of Surgical Education 
He recently co-chaired the Planning Committee of the Coalition of Accountability—a multiorganizational (AAMC, NBME, ECFMG, AACOM, AOGME, NBOME, and OPDA) group working to establish a process to review and make recommendations to improve the undergraduate (UME) to graduate (GME) medical education transition across medical training.