CMSRU faculty poster accepted to international medical education conference
---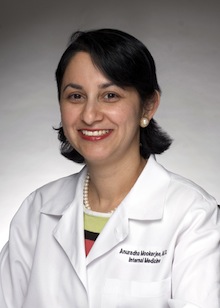 While Cooper Medical School of Rowan University (CMSRU) is in the midst of developing its charter class and constructing a new educational building, its experienced clinical faculty members are already earning worldwide recognition for their innovative approaches to educating tomorrow's doctors. Later this month, Anuradha Mookerjee, MD, MPH, FACP, Assistant Professor of Medicine at CMSRU, will present a poster at one of the international medical education community's most important meetings – the Annual Conference of the Association for Medical Education in Europe (AMEE) in Vienna, Austria. More than 2700 attendees from 84 different countries are expected to participate in the conference.
The poster, developed by Dr. Mookerjee in conjunction with her colleagues Consuelo Cagande, MD, William Graessle, MD, and Vijay Rajput, MD, FACP, describes LifeStages, a mandatory course for first-year medical students at CMSRU.
"LifeStages is unique in that it introduces the many developmental phases of the human being, from infancy to old age, and integrates biological, social and cultural determinants as well as ethical and moral dilemmas," explains Dr. Mookerjee. "This interactive course will take a multi-departmental and multi-disciplinary approach, and include a range of medical specialties. It will be provided to first year medical students during their initial educational phase."
LifeStages is a four-week course designed to advance, reinforce and place clinical context to the basic aspects of human development and aging from infancy through geriatrics. The course will explore the developmental challenges of each stage and the health issues related to these challenges. The psychological, economic and socio-cultural dimensions of these life stages and their impact on health will be discussed with experts from a variety of clinical fields. Clinical experiences will introduce the student to the fields of pediatrics, adolescent medicine, internal medicine and geriatrics. The curriculum will include topics such as: growth and development, hormonal changes, pharmacodynamics, injuries, safety, ethics and moral issues. Since humans function in complex and dynamic social units, the course will also focus on the relationships between the life stages.
CMSRU received preliminary accreditation from the Liaison Committee on Medical education in June 2011, and will enroll its charter class in August of 2012.
AMEE is a worldwide organization with members in 90 countries on five continents. Members include educators, researchers, administrators, curriculum developers, assessors and students in medicine and the healthcare professions. AMEE organizes an annual conference and delivers courses on teaching, assessment and research skills for teachers in medicine and the healthcare professions. It produces the journal Medical Teacher, a series of education guides, occasional papers and Best Evidence Medical Education guides.