CMSRU Class of 2021 don first white coats at special White Coat Ceremony
---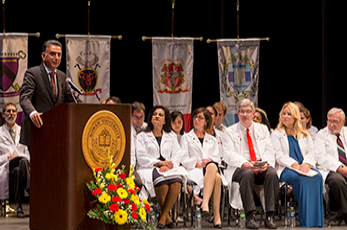 On Friday, September 15, Cooper Medical School of Rowan University (CMSRU)'s new first year students were cloaked in their white coats during our school's annual White Coat Ceremony.
Ninety-seven M1 students participated in the event, which was held for the first time in Pfleeger Concert Hall on Rowan's main campus in Glassboro. More than 600 people attended the ceremony, including students' family members and friends; Rowan University President Ali Houshmand, PhD, and leadership and board members from CMSRU, Rowan University, and Cooper University Health Care; and faculty, staff and event volunteers.
In her opening remarks, Interim Dean Annette C. Reboli, MD, welcomed the students and guests, and encouraged the new students to stand and acknowledge the loved ones who supported them on their paths toward medical school. "These are the people who have loved you and supported you on this magnificent journey you are on," she said.
After acknowledging the various dignitaries in attendance, Dr. Reboli shared the history of the white doctor's coat and the more recent advent of the White Coat Ceremony. She offered a warm welcome to the new medical students along with some encouraging words.
"Medicine awaits you with open arms," she said, as she outlined the "soft" skills and traits they will need to develop to be great doctors, such as altruism, humility, commitment, kindness, respect and compassion. "Our job over the next four years is to help you become the person who fills your white coat with the attitudes and skills worthy of our noble profession."
CMSRU's honorary first dean, Edward Viner, MD, was this year's keynote speaker. Dr. Viner has been in many roles at Cooper, including Chief of Medicine at Cooper University Hospital for more than 20 years. He currently serves as Special Advisor to the Dean.
Dr. Viner provided the students with sage advice about succeeding in medical school and in their careers as physicians. He also pointed out that while members of the class were all very different, the characteristic they have in common in their desire to "do good" for their fellow humans.
"In choosing Cooper, you have chosen a medical school that places great emphasis on producing humanistic physicians," he said. "We want to take that natural empathy you all come here with and nurture it, teaching you how to translate good motivations into good care for sick people. We want you to come out of here being doctors who care about your patients, not just their diseases."
Following Dr. Viner's presentation, students were called one-by-one to the stage, where they were cloaked in their white coats by faculty mentors. Following the cloaking, Associate Dean for Admissions William Kocher, MD, led the first year students in reciting the Hippocratic Oath for the first time. All guests who were physicians were invited to stand and renew their commitment by participating in the recitation as well.
CMSRU's new first year medical students join the 245 students already attending the school, bringing enrollment to 342 students. Although students come from across the country, about 73 percent hail from New Jersey, including 33 from six counties in the southern part of the state. Eight Rowan alumni are among this new class of students.
The first White Coat Ceremony was held in 1993 at Columbia University College of Physicians and Surgeons and has become an important rite of passage for first year medical students at schools throughout the United States.