Camden Prenatal Collaborative (CPC) Health Coaching program benefits Camden moms and babies
---
Medical students at Cooper Medical School of Rowan University (CMSRU) are helping to improve the lives of expectant mothers in Camden through an innovative program designed to provide one-on-one support for pregnant women and give their babies the best possible start in life.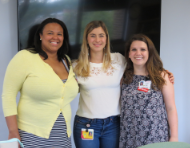 The Camden Prenatal Collaborative (CPC) Health Coaching Program pairs medical students with expectant mothers during pregnancy to provide social and emotional support, education and assistance.  The relationship continues through the baby's delivery and first few months of life.  The goal of CPC Health Coaching Program is to encourage pregnant women to make choices that are best for their health and the health of their newborn babies.
"We provide a range of assistance, from arranging transportation to appointments, sending reminders about testing, providing nutrition education, promoting breast feeding and giving emotional support -- both in person and by phone," explains Adamma Spearman, a second year medical student at CMSRU.
One important and unique focus of the CPC Health Coaching Program is newborn literacy. As part of the CPC Health Coaching Program, every expectant mom receives a new book from their health coach at each prenatal visit and are encouraged to read to their babies, even before delivery.
"There is plenty of evidence in the literature demonstrating that regularly reading to children stimulates optimal patterns of brain development," explains Jocelyn Mitchell-Williams, MD, PhD, associate dean for diversity & community affairs and a practicing obstetrician who oversees the Camden Prenatal Collaborative.  "It makes sense that if we can help establish a pattern of reading before the baby arrives or shortly after, we give our moms a better chance to build stronger language, literacy and social-emotional skills for their children."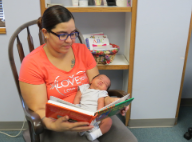 Townsend Press, a book publisher based in West Berlin, N.J., has provided generous, ongoing support to the CPC for the past two years, including the collection of books for distribution to the expectant mothers. Townsend Press funding also supported the purchase of two new maternity gliders that were recently placed in the clinical waiting rooms for patient use. 
"We encourage moms in the program to sit in the glider and read to their unborn and/or accompanying child while waiting for their appointment," says Spearman.  "Literacy is a key factor to success of both children and adults.  By encouraging reading at this early stage, we hope to kick start maternal engagement in literacy activities and also enhance their bonding experience."
The CPC Health Coaching Program has enrolled more than 50 patients to date. The expectant and new mothers benefit from the additional guidance and attention they receive from the medical students, but the students benefit as well. 
"Our students learn to appreciate the socioeconomic factors that influence the care of their patients, and the importance of relationship building as a way to establish patient responsiveness to care and health maintenance," says Dr. Mitchell-Williams.  "As more and more of the patients deliver, we hope to transition the moms and babies to health coaching in the pediatric setting.  Continued encouragement of reading and additional education about routine pediatric care will help our students continue to support the mission of CMSRU to have a positive impact on the community we serve."