CMSRU students support creation of new community-designed ground mural in Camden
---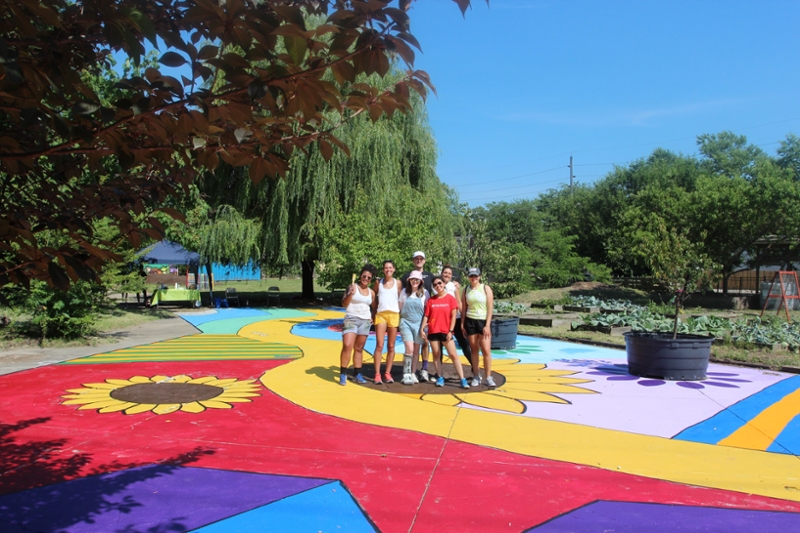 ARTx Camden is a service organization founded by students and physicians at Cooper Medical School of Rowan University (CMSRU) who believe the arts and humanities serve a vital purpose in the health of individuals, communities and our society as a whole. As future physicians, ARTx members support the arts and creative expression as research shows the creation of art can increase hope, compassion and sense of self through social and personal engagement.
In alignment with the organization's mission, members established a goal of designing and installing a meaningful piece of public art. They reached out to the Camden community with the idea of designing a new public art project. As a result, the ARTx Camden group teamed up with Kelly Lopez, a local mural artist who volunteered to generously donate her time and talent to lead the artistic design of the piece.
As part of the planning process, the team hosted community design sessions, where members of the Camden community were invited to share their thoughts to contribute to the project. The team also hosted a session with members of LUCY Outreach to further discuss ideas for the public art installation. During these sessions, the group discussed what images and color scheme would best represent the spirit of Camden.
After months of planning and preparation, CMSRU students kicked off the weekend of June 24 by cleaning, washing and priming the space to prepare for painting a ground mural. Next, Kelly outlined the mural design on the ground to act as a guide for painting volunteers. On Sunday, June 26, after approximately eight hours of painting in the summer sun, the public art project was brought to life. Complete with vibrant colors, symbols to represent nature and an interactive "game board," the mural now shines in public community garden space in the Lanning Square neighborhood of Camden.
CMSRU students Katherine Cerniglia, Jamie Cabigas, Owen Henry, Joely Zilka and Mary Penckofer led various efforts related to the project.
"Through art and human expression, we can realize the beauty of the things around us and connect with each other in a way that is difficult to explain," said Katherine Cerniglia. "Art holds such an important space in life – it allows people to heal."
"It was special and very meaningful to be able to gather as a community in one space to create something together, especially after experiencing the COVID-19 pandemic over the past 2+ years," said Jamie Cabigas.
"We hope that the success of this project inspires more public art projects, advocacy of the arts and arts education," said Owen Henry.