CMSRU Leaves Compelling Legacy for Future Students, Faculty and Staff
---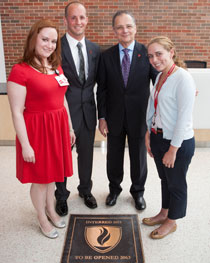 Cooper Medical School of Rowan University (CMSRU) marked the conclusion of its inaugural year by burying a Time Capsule in the lobby of its brand new medical education building located in downtown Camden. The Time Capsule, which is to be opened in 50 years, was filled with artifacts and memorabilia commemorating the historic launch of the school and its first year, as well as items reflecting current events and pop culture. 
The 24" x 24" x 18" Time Capsule vault is located in the floor of the school's vestibule and was added to the design at the request of its Founding Dean, Paul Katz, MD. After being filled, it was covered with a bronze tile engraved with concise directions – "Interred 2013/Open in 2063." Fifty years was selected as the duration in the hope that members of the school's charter class will be able to attend the Time Capsule Opening event to celebrate their role in the school's history and reflect on the positive impact CMSRU has had on the health of Camden and the region over those five decades.
 "Many of us who have been involved in the development of the school and its inaugural year consider ourselves pioneers," explained Dr. Katz. "This Time Capsule gives us the opportunity to leave an interesting and meaningful legacy for future students, faculty and the public to discover."
Some of the items placed in the Time Capsule included:
Reflections and predictions from members of CMSRU's charter class
A copy of Dr. Katz's remarks and a piece of ribbon from the school's Grand Opening event
A CMSRU ID badge and a variety of CMSRU branded items
A custom photo book documenting the school's launch and its inaugural year
Current newspapers, news and lifestyle magazines and medical periodicals
Press clippings about CMSRU from throughout the inaugural year
Memorabilia donated by the Philadelphia Flyers and the Philadelphia Eagles
Personal letters
"Several of us students made predictions about what we think Camden and Cooper will be like when we return in fifty years and placed them in the Time Capsule," said CMSRU student Michael Coletta, who served on the school's Time Capsule committee. "I think it will be interesting to return to CMSRU in 2063 with my classmates to open this Time Capsule and see if our vision is realized. It will be an amazing way to celebrate the history of our school as well as the end of our own medical careers."
Tuesday's Time Capsule interment event also included a special exhibit of photos and artifacts celebrating the history of Camden, courtesy of the Camden County Historical Society and Cooper University Health Care Archives.