CMSRU/Cooper team returns from medical mission in Rwanda
---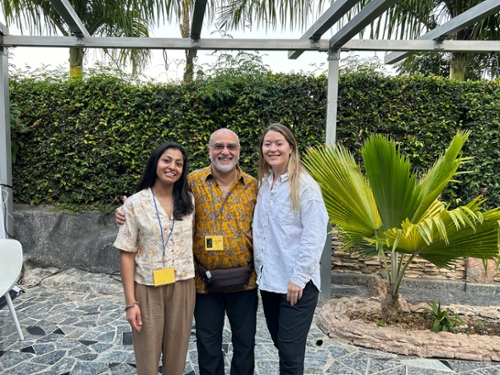 Jasjit Beausang, MD, a third year urogynecology fellow, and Savina Reid Herrera, M4, recently accompanied Saifuddin T. Mama, MD, MPH, professor of obstetrics and gynecology and head of Cooper University Health Care's division of female pelvic medicine & reconstructive surgery, on a medical mission to Kigali, Rwanda with the International Organization for Women and Development (IOWD). IOWD sponsors three mission trips per year to treat women who travel to Kibagabaga Hospital from all over Rwanda. Many women who presented for this mission trip were experiencing symptoms of fistula or prolapse. Cervical cancer screening was also performed for interested patients.
Savina Reid-Herrera provided some insight on her transformational experience: "As someone who is about to graduate in a few months and is hopeful to match into the field of OB/GYN, it cannot be overstated how much of an impact this global medical mission trip has had on me. It was one of the best experiences of my life and the absolute highlight of my medical school training. 
Prior to medical school, working with Doctors Without Borders in the corporate office sparked my interest in global health, but this trip with IOWD was my first opportunity to travel as part of a medical team. I learned so much from the patients I was honored and privileged to help care for, as well as from my Rwandan medical student colleagues, renowned surgeons, fellows, scrubs techs, nurses, and Kibagabaga hospital staff. 
I am extremely appreciative of Dr. Mama for helping me to have this opportunity and am hopeful to be able to return in the future with this organization as I progress through training!"