MEDacademy 2017 opens enrollment for South Jersey and Philadelphia area high school students
---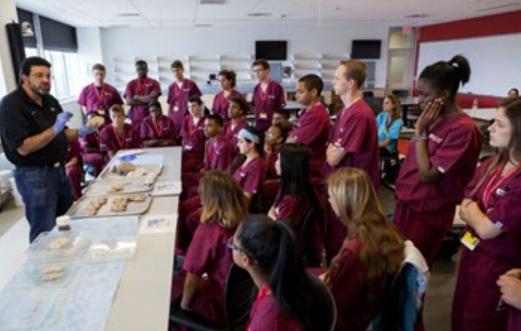 For the third year in a row, Delaware Valley teens who aspire to become physicians or other health professionals can give medical school a month-long "dry run" during
MEDacademy
, a summer enrichment day program offered at
Cooper Medical School of Rowan University (CMSRU)
.
MEDacademy offers rising high school juniors and seniors four weeks of a rich, interactive biomedical and health science curriculum combined with intensive hands-on learning to enhance students' academic abilities and offer a preview of what it's like to be a first-year medical student in the 21st century. It's designed for academically-driven students who may one day want to attend medical school, and admission is highly competitive.
"The young men and women who participate in our program are truly exceptional – and not just because of their academic abilities," explains Anne Green-Santry, MEDacademy program director. "While many of their peers take the summer to relax, these teens spend weeks working hard to gain a better understanding of the art and science of medicine through case-based learning, clinical simulations, hands-on demonstrations, featured guest speakers, field trips and more. I have no doubt that this intense academic activity will enhance their college applications, especially for those applying to competitive pre-med undergraduate programs."
So far, 60 students from 33 high schools in New Jersey, Pennsylvania and Delaware have participated in MEDacademy since it launched in 2015. The program was so popular with some students the first year that an advanced phase,
MEDacademy Masters
, was developed to accommodate those wishing to return in 2016. It is held in CMSRU's medical education building in downtown Camden with special sessions across the street at Cooper University Hospital. CMSRU medical students participate in MEDacademy as mentors and facilitators, along with clinical and science faculty from CMSRU and Cooper University Hospital.
Students who have completed MEDacademy praise many of the program's features, especially the small-group active learning, hands-on science lessons, and the medical student mentoring. Most agree that the overall experience was compelling and motivating.
"This program opened my eyes up to many different professions in the health field," said Brianna Young, a MEDacademy 2016 graduate from Erial, NJ. "I came in thinking that I wanted to be a pediatrician and now I'm leaving with a list of many options. The lectures and hands-on experiences have really taught me a lot. MEDacademy Masters, here I come!"
Mitchell McDaniels from Hammonton, NJ, a MEDacademy Masters 2016 graduate added: "The hospital was an amazing place to learn about medicine. Being there and seeing the hospital has given me more motivation and excitement to go into medicine and to become a doctor."
MEDacademy 2017 runs July 10 to August 4, Monday-Friday, 9 a.m. to 4 p.m. Cost to attend is $2,500 and includes: program tuition, scrubs, stethoscope, daily lunches, field trips, educational resources, and graduation reception and ceremony. Students must be in excellent academic standing and have successfully completed advanced science and math courses. Scholarships, while limited, may be available to financially disadvantaged students who qualify.
Application and permission forms are available for download here. Eligible applicants must have a GPA of 3.3 or above and submit two letters of recommendation (guidance counselor and science teacher), official high school transcripts from 2015-2016, as well as grades from the fall 2016 semester.
A $500 deposit is required at the time of application. This deposit is fully refundable if the student is not accepted into the program. The deadline date for submission of all materials is February 17, 2017. The MEDacademy admissions committee will thoroughly review all applications and notify students of their status the week of March 17, 2017.
MEDacademy is held at Cooper Medical School of Rowan University, 401 South Broadway in Camden, NJ. MEDacademy is a day camp program. Students are responsible for daily transportation.
For specific questions, email medacademy@rowan.edu or call 856-956-2759.