CMSRU Welcomes New Medical Students at Class of 2027 White Coat Ceremony
---
Cooper Medical School of Rowan University (CMSRU) officially welcomed 113 new first-year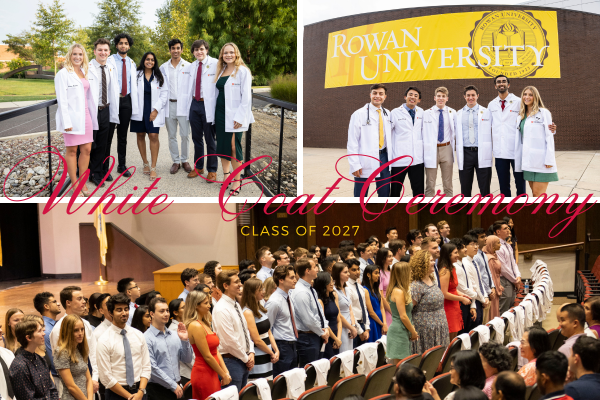 students into the profession of medicine during the Class of 2027 White Coat Ceremony held at Pfleeger Concert Hall on Friday, September 8.
The White Coat Ceremony included encouraging and inspirational remarks, the traditional 'cloaking' ceremony, and the students' first recitation of the Hippocratic Oath. The event was live-streamed on CMSRU's YouTube channel for those who could not attend in person this year.
"During your time at CMSRU, each of you will discover and develop the traits that are essential to the development of an excellent physician: altruism, humility, commitment, kindness, respect, empathy, and compassion.  This process has already begun, for in choosing medicine, you have proclaimed your desire to serve others," said Annette C. Reboli, MD, dean of CMSRU, during her opening remarks. "Our job over the next four years is to help you become the person who fills your white coat with the attitudes and skills worthy of our noble profession."
Rowan University President Ali Houshmand, PhD, and Rowan University Provost Anthony Lowman, PhD, welcomed the students and their loved ones into the Rowan family, congratulating them on achieving admission to medical school.
"This is one of the most selective groups of students we have had. Be very, very proud because this group of students were selected from 5,000 applicants," noted President Houshmand.
In his remarks, Provost Lowman lauded the class for their achievements thus far.
"You truly are a special group, and you are coming at a special year -- our 100th year," said Provost Lowman. "I know how exceptionally hard you worked to get here today, followed various paths, but you are here.  And now it's time for your success."
"Keep working hard and in four years, you are going to be at an incredible place," he added.
This year's White Coat Ceremony guest speaker was Heval Kelli, MD, a trailblazing cardiologist, empowering educator, and refugee advocate.  Dr. Kelli is a Syrian Kurdish-born physician who arrived in the United States just after 9/11 and is the main character of the documentary Refuge: a story about fear and love in the American South.
In his address, Dr. Kelli shared the story of his path, beginning in European refugee camps and culminating in his journey to becoming an American physician. His remarkable empathy and compassion not only forged an unexpected friendship with a Ku Klux Klan leader but also catalyzed profound changes in the individual's beliefs and perspective.
Dr. Kelli urged the new students to remember the trust that people will have in them because they are in the medical profession. He urged them to always be present and humble when interacting with others, both inside and outside the exam room, to ensure that good things happen.
"When you wear your white coat, you have a superpower," he said. "Recognize the privilege and power you have and how it can transcend the exam room. There is a whole community that needs us," he said.
Following Dr. Kelli's talk, students were called one-by-one to the stage, where they were cloaked in their white coats by faculty mentors. Each student also received a new stethoscope compliments of the Medical Staff of Cooper University Health Care. In addition, family, friends, and mentors provided inspirational notes that were placed in the pockets of the students' white coats.
Senior Associate Dean for Admissions William Kocher, MD, then led the first-year students in reciting a modern version of the Hippocratic Oath for the first time. All guests who were physicians were invited to stand and renew their commitment by participating in the recitation as well.
CMSRU's 113 new first year medical students join the 345 students already attending the school, bringing enrollment to 458 students. Seventy-six percent of the Class of 2027 hail from New Jersey, and 18 are Rowan University alumni.
The first White Coat Ceremony was held in 1993 at Columbia University College of Physicians and Surgeons and has become an important rite of passage for first year medical students at schools throughout the United States.