CMSRU Dean Annette C. Reboli honored as a 2023 Healthcare Hero by NJBiz
---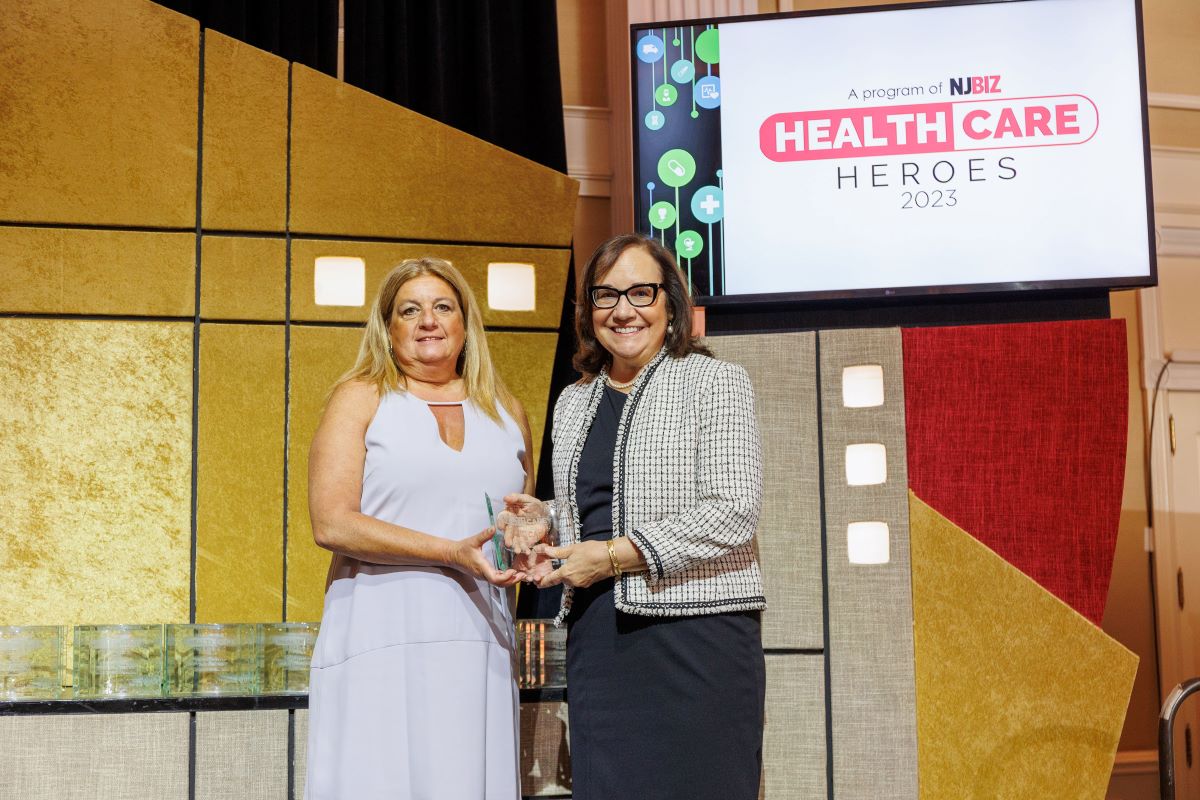 Annette C. Reboli, MD, dean of Cooper Medical School of Rowan University (CMSRU), was named a 2023 Healthcare Hero in Education by NJBiz Magazine, a leading business journal covering New Jersey. She received this prestigious recognition at a special event held recently in Somerset, NJ, alongside many other outstanding individuals.
Dean Reboli's remarkable leadership has had a significant impact on medical education. She has played a crucial role in the efforts to address the shortage of physicians in New Jersey and beyond, as well as in improving community health. CMSRU is noted for its dynamic curriculum at CMSRU, which emphasizes active learning, simulation, and early exposure to patient care and service learning. Under Dean Reboli's guidance, CMSRU has inspired students to become highly skilled physicians who value their communities.
Expressing her gratitude, Dean Reboli stated, "I am deeply honored to receive this recognition. CMSRU is a special place—a medical school with a soul—and I am immensely proud to serve as its dean. In just over 10 years, we have witnessed the incredible success of CMSRU graduates as medical providers, researchers, educators, and leaders. This is a testament to the quality of our program, our students, and our dedicated faculty, staff and leadership team who deliver an exceptional curriculum and support our students."
CMSRU has gained national acclaim for its academic competitiveness, community engagement, and contributions to student and faculty research. It recently received the distinction of being ranked as a Best Graduate School for Medicine/Primary Care by U.S. News and World Report.
With more than 625 physicians as alumni and a current enrollment of 400-plus students across all four years, CMSRU continues to make a significant impact. The faculty comprises approximately 1,000 clinicians and scientists, while 120 professional staff members provide essential support.
Professionals from Cooper University Health Care were also recognized as Healthcare Heros at the event. Dr. Rachel Haroz and Iris Jones from Cooper's Center for Healing in the category of Education Hero/Organization for their work in providing trauma informed care training to the Emergency Department team members; and Stephanie Prendergast, associate clinical director in the Emergency Department, was one of the Nurse of the Year honorees.
The NJBiz Healthcare Heroes awards program aims to acknowledge excellence, foster innovation, and recognize the efforts of individuals and organizations making a positive impact on healthcare quality throughout New Jersey. Submissions were thoroughly reviewed, and winners were selected by a panel of independent judges. The program honors individuals and organizations across 12 categories.
---