Medical student among first to take 'fast track' at CMSRU
---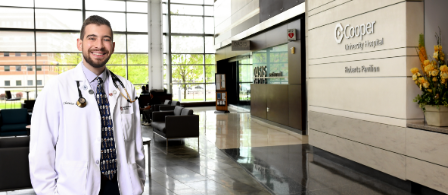 Christian Bruni remembers the dramatic moment when he knew he wanted to become a doctor. He was working as a camp counselor one summer during high school, and a 6-year-old fell off the jungle gym and broke his wrist.
"I was so sad to see him in pain and being afraid of what would happen next," recalls Christian, who will graduate from Cooper Medical School of Rowan University this spring. "I wanted to do more to help him."
That experience motivated Christian to go into medicine and, especially, pediatrics, says the Hamilton, N.J., native.
In fact, Christian is on a fast track to become a pediatrician – a career that combines his love of science, passion for helping others, and appreciation of children. He is one of the first two students set to graduate from CMSRU's accelerated, three-year program, known as "PC3."
Becoming a doctor a year sooner

The intensive program, designed for students pursuing primary care or pediatrics, enables aspiring doctors to graduate a year earlier than the standard, four-year M.D. program. It features year-round classes, early exposure to primary-care settings, and specially designed courses to jump-start clinical skills. Moreover, graduates of PC3 – short for Three-Year Accelerated Primary Care Track – are accepted directly into a residency program at Cooper University Hospital.
"The opportunity to go into pediatrics even faster, I thought was huge," says Christian. "I can't wait to be out in the community, working with patients!"
That attitude is a great match for the competitive PC3 program, says Annette C. Reboli, M.D., dean of CMSRU.
"The accelerated program is designed to help address the shortage of primary-care providers, especially in underserved communities like Camden," she explains. "It will enable mature, highly focused students like Christian to start practicing medicine a year sooner than they otherwise could. We are appreciative that HRSA (Health Resources & Services Administration) funded this pilot project."
Helping the community
The outgoing 26-year-old was also drawn to CMSRU by its strong commitment to community service, which he is passionate about.
During college, for instance, Christian mentored disadvantaged children at a Philadelphia-area after-school program. For the first time, he met urban families and saw some of the challenges they face. "One child would save ketchup packets [from the program] so he'd have something to eat later," Christian recalls.
"It opened my eyes to see a community that really needed help" he says. "I learned about resilience, compassion, understanding and empathy from working with these kids."
Since coming to CMSRU, Christian has gotten even more involved. He's taught Camden youth about health through the Primary Urban Partnership. He's been a reading buddy at the KIPP charter school. And he's volunteered at Cathedral Kitchen, which provides food, job training and health services to people in need.
The PC3 curriculum also gave Christian opportunities to serve and learn about the community.
For example, a summer course titled "Transforming Healthcare in an Urban Environment" explores socioeconomic barriers to care. As part of the class, Christian administered patient satisfaction surveys, and he learned about innovative local initiatives such as safe housing, accessible transportation, and food assistance programs.
"You can learn all the medicine in the world, but if patients can't get to the doctor, you can't do any good," says Christian.
Hands-on curriculum
Through PC3, Christian also worked in a coordinated, multi-specialty pediatric practice called a patient-centered medical home (PCMH). He was able to see how such practices lower obstacles to care by enabling patients to see many of their doctors in one stop. This Cooper PCMH also helps decrease emergency-room visits by encouraging families to come to the practice more frequently.
Another plus: Christian will continue seeing his PCMH patients for three more years, as a pediatrics resident at Cooper.
"It's very cool to be able to build relationships with people," he says. "They open up more. You can help them make small changes since you know the patient so well."
While the accelerated program was challenging, Christian is glad he chose it.
"I felt supported through the whole process," he says, citing a highly responsive administration and faculty, as well as encouraging relatives and friends. "I got a great education and feel well-prepared for residency."
His advice for others entering PC3: "Keep a good schedule. Stay organized. And keep your eye on the prize as to why you're doing this in three years."
For Christian, it's all about the people. "When I was stressed over studying for a test, I'd think back about a patient interaction I really enjoyed."
In addition, he appreciates the benefit to his finances.
"I have a lot of debt from undergrad and grad school, so saving a year [of medical school tuition] was huge," notes Christian, who received a bachelor's in comprehensive science from Villanova University, followed by a one-year accelerated master's in physiology and biophysics from Georgetown University.
PC3 students also avoid the time and costs associated with applying for residencies all over the country, he notes.
Looking ahead
After his residency, Christian hopes to continue practicing medicine in Camden or another underserved community.
"If Cooper has a spot for me, I'd love to stay with Cooper," he says.
He also wants to get more involved in advocating for public-policy improvements, to help all people have access to high-quality health care, including preventive care.
But most of all, the aspiring doctor looks forward to working with his young patients.
 
"Children are so much fun. I learn so much from them," he says. "They approach everything with an open mind. Even if they're afraid, they will try things and learn."