Class of 2023 don first White Coats at special White Coat Ceremony
---
Last week, 111 new CMSRU students were welcomed into the profession of medicine as they were cloaked in their new doctor-in-training white coats during the Class of 2023 White Coat Ceremony.
The event, held in front of family, friends, faculty and other special guests, also included inspirational talks by several special guests, the traditional "cloaking" ceremony, and the students' first recitation of the Hippocratic Oath.
"You are the future of medicine, and the future of our profession depends on each and every one of you," said Annette C. Reboli, MD, dean of CMSRU in her opening remarks. "Medicine awaits you with open arms."
Rowan President Ali Houshmand, PhD and Rowan Senior Vice President for Medical Initiatives and Affiliated Campuses James Newell, PhD, also provided important words of wisdom to the new students. 
"On behalf the 20,000 students and 4,000 faculty and staff at Rowan University, I want to congratulate this amazing class. Welcome to Rowan!" said Dr. Houshmand, who noted that the 111 students were accepted and enrolled in the No. 10 "Most Selective" medical school in the country, according to U.S. News and World Report. 
Dr. Newell predicted that while the students are involved in the rigors of medical school, their new white coats will become more than just a garment. "These white coats will be your touchstones," he said. "They will be the continuing reminder of the profession of service that you have chosen."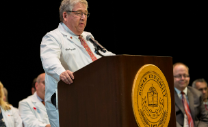 This year's White Coat Ceremony guest speaker was Jeffrey K. Cohen, MD, president of Allegheny General Hospital. His message of leadership, professionalism and compassion – even in the face of a traumatic mass shooting that affected his community in Pittsbugh – offered an important lesson to the new students.
Following Dr. Cohen's presentation, students were called one-by-one to the stage, where they were cloaked in their white coats by faculty mentors and each received a new stethoscope compliments of the Medical Staff of Cooper University Health Care. In addition, family and friends provided inspirational notes that were placed in the pockets of the students' white coats. 
Associate Dean for Admissions William Kocher, MD, then led the first year students in reciting the Hippocratic Oath for the first time. All guests who were physicians were invited to stand and renew their commitment by participating in the recitation as well.
CMSRU's new first year medical students join the 295 students already attending the school, bringing enrollment to 406 students.
The first White Coat Ceremony was held in 1993 at Columbia University College of Physicians and Surgeons and has become an important rite of passage for first year medical students at schools throughout the United States.