CMSRU donates 400+ toys to local children
---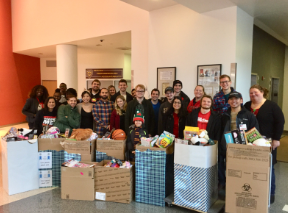 Students, faculty and staff from Cooper Medical School of Rowan University (CMSRU) brightened the holidays for Camden children this weekend with the delivery and distribution of more than 400 new toys. 
The toys were collected through CMSRU's annual holiday drive to benefit the Camden community. Volunteers from CSMRU presented the toys to dozens of families participating in a local youth basketball organization that practices at KIPP Whittier Middle School. Gifts for children ages one through 16 were available, so even toddler sisters and brothers were able to participate in the holiday fun.
"The toy drive is one of the largest school-wide service initiatives we have at CMSRU," said Jocelyn Mitchell-Williams, MD, PhD, associate dean for diversity and community affairs. "Not only do we achieve incredible participation across the CMSRU community during the collection, we also have many students, staff and their families show up on a Saturday during the busiest time of year to help us deliver and distribute these wonderful gifts."
CMSRU holds the annual school-wide toy drive every year, beginning around Thanksgiving. Since CMSRU opened its doors in 2012, almost 3,000 toys have been donated to children in the Camden community.
Community service is part of the culture at CMSRU, and the heart of its pledge to give back to the community while developing highly skilled, socially conscious physician leaders who value a patient-centered team approach to health care. CMSRU requires students to complete a minimum of 40 hours of nonmedical service per year in the Camden community as part of the curriculum, but most surpass that. During the 2017-18 academic year, CMSRU's approximate 300 students completed more than 16,000 hours of service to the Camden community.