CMSRU students shadow clinical faculty during Week on the Wards
---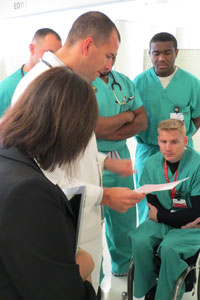 Cooper Medical School of Rowan University (CMSRU)'s 50 first-year medical students had a glimpse of what the future might hold for them during their first "Week on the Wards" (WOW). Held October 22-25 – during week eight of CMSRU's case based, integrated and organ centric curriculum – WOW was a chance for students to observe the patient care team firsthand.
"During the experience, we asked our students to look at the core competencies of communication, teamwork, professionalism, system-based practice and practice improvement," explains Michael Goldberg, MD, Associate Dean for Academic Affairs. "We didn't challenge them with learning medical knowledge as a primary outcome of the week. At week's end, they returned to school for a reflective session in their active learning groups with their facilitators, followed by a teamwork session to discuss 5 observed behaviors related to the competencies --both good and bad."
During WOW, students were divided into small groups that rotated through patient care areas, under the supervision of clinical faculty. They observed all aspects of patient care delivery on the following units: OB/Gyn, pediatrics, medical or surgical intensive care, the operating rooms, internal medicine and emergency medicine. CMSRU's early patient exposure is part of its progressive, mission-driven curriculum designed develop future doctors who are equipped to meet the needs and challenges of patient care in the 21st century.
"I found this week incredibly motivating," reflected Daniel Lefler, a CMSRU student from Haddonfield, NJ. "What was most impactful to me was meeting the doctors. Their passion was contagious, and I couldn't help but be excited to be part of the field. I'm so happy that after a difficult exam, I got to be reminded why I am doing this – because a passion in the field makes for a doctor who can't help but heal."
"Over the course of the week, I witnessed so many 'real' medical experiences," explained CMSRU student Rebecca Lee of Princeton. "I met enthusiastic doctors, nurses, and other health care professionals who were passionate about their work and showed me what I could potentially become, if I put my mind to it. And it all happened in my 10th week of medical school!"
The clinical faculty who worked with the students at Cooper also found the experience to be a positive one. "After 34 years in medical education I am thrilled to admit I was genuinely excited and energized to relate to our own "Cooper" medical students," said H. Warren Goldman, MD, Professor of Surgery and Chairman and Chief of the Department of Neurosugery.
Anuradha Mookerjee, MD, MPH, Assistant Professor of Medicine, hosted students during their internal medicine inpatient rotation. She agreed that it was a fulfilling experience all around. "The students were highly enthusiastic in learning bedside clinical techniques and were eager to absorb everything that was discussed during rounds."
Dr. Mookerjee also noted that the students' inquisitiveness actually enhanced the quality of clinical discussions within the medical team. "This early clinical exposure is something that these medical students will value and remember for a long, long time."