Alan Alda shares communication wisdom at CMSRU
---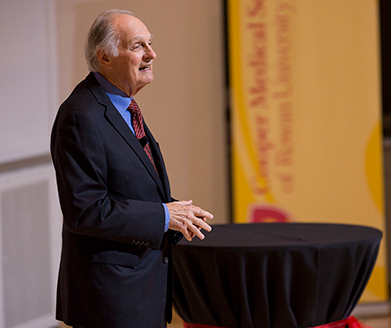 He may have only played the role of a doctor on the television show M*A*S*H, but Alan Alda seems to know just what it takes for good physicians to become great.
Part of it is good communication – an idea he explained to deans, faculty and students of Cooper Medical School of Rowan University (CMSRU) during "The Patient Will See You Now," a special "grand rounds" lecture held Nov. 14 at the Camden school.
For more than an hour, Alda entertained, educated and captivated the audience with vivid, engaging personal stories, interesting allegories and sage wisdom he gained throughout his decades-long career as an Emmy Award-winning television and stage actor, author, director, and host of the PBS series Scientific American Frontiers. During the past several years, Alda has been helping scientists learn to communicate more clearly and vividly with the public through his work with Stony Brook University School of Journalism's Alan Alda Center for Communicating Science, where he is a visiting professor.
Woven through each anecdote warmly delivered by Alda was the overarching theme that empathy is the key to having good communication, especially when it comes to science and medicine – two disciplines he labeled "humanity's greatest achievements."
Alda pointed out that knowledge can be a curse if you understand something so deeply and in such detail that you forget what it's like for those not as proficient in the subject. He illustrated this by having a volunteer tap out "The Star Spangled Banner" on a table while the audience tried to guess the song. To the surprise of everyone except Alda, the majority guessed incorrectly. 
When you're the person tapping, you hear the melody in your head, he noted. "You unconsciously assume the audience knows the melody, too, when all they really hear is tapping," he added. "How does this relate to communication? The tapping is like the skeleton of what you want to say; the melody is the emotion, the story, the words around the technical words. When communicating, you need to remember to share the melody, not just the tapping, if you want to be fully understood."
CMSRU Dean Annette C. Reboli, MD, facilitated Alda's visit to CMSRU after she heard his inspiring presentation at a conference for medical school deans last year. The Alda Center for Communicating Science at Stoney Brook, she learned, was focused on developing new and effective methods for training scientists to be better communicators. Reboli arranged for Alda's plenary session, plus a second day of interactive education that included hands-on improvisational workshops led by Alda Center instructors.  In the workshops, multidisciplinary teams of health care providers, including physicians, nurses, medical students and resident physicians, focused on identifying common communication challenges in healthcare and understanding the important role of interprofessional communication in the quality and continuity of patient care. 
"We learned to pay dynamic attention to others on the patient care team, and how to read and respond to our colleagues' body language and nonverbal cues," said Reboli, who is also a practicing infectious diseases specialist. "We did this through improvisational theater exercises, which helped us practice listening and connecting."
"This was a memorable and transformational experience that I think will make us better and more humanistic health care providers," she added.
The Grand Rounds presentation and the workshops were sponsored jointly by the Center for Humanism at CMSRU and a CMSRU grant from the Health Resources and Services Administration (HRSA), an agency of the U.S. Department of Health and Human Services, for primary care training and enhancement. The mission of HRSA is to improve health and achieve health equity through access to quality services, a skilled health workforce and innovative programs.
CMSRU is a proudly mission-driven school focused on developing highly skilled and socially conscious physician leaders who value a patient-centered, team approach to health care. Its innovative curriculum provides students with small-group, self-directed learning and early and continuous patient care experiences, beginning the third week of medical school. CMSRU is also part of a small consortium of medical schools across the country offering an accelerated MD program of study that allows qualified to students to earn their degrees in three years instead of four. A partnership between Rowan University and The Cooper Health System, CMSRU is the only four-year MD-granting school in Southern New Jersey. Currently more than 330 students are enrolled at CMSRU.