CMSRU unveils enduring legacy to honor Charter donors
---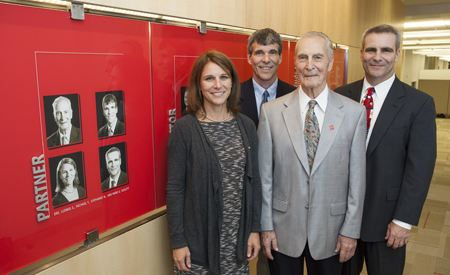 It was a celebratory atmosphere inside the Cooper Medical School of Rowan University (CMSRU) building last week in Camden, despite the rainy October evening outside. Over 150 members of CMSRU's 2012 Legacy Society joined faculty, staff, and students to mark the closing of the new school's charter philanthropic initiative, and the unveiling of the 2012 Legacy Society Wall – the permanent monument acknowledging the generous gifts that laid the foundation for the future of CMSRU. This wall, located outside of the Dean's office, lists the 200 Legacy Society members that together provided $5.5 million in donations to the new medical school.

This is a special group of benefactors – those who recognized the potential of CMSRU, those who believed in its mission and commitment to the future of Camden, community service, and development of a group of physicians who would truly make a difference in the health and lives of their future patients. Some chose to support CMSRU in advance of a building being constructed or a charter class being recruited; all made the commitment during the first year of the school's existence – a truly visionary society of friends! 

"I extend my sincere personal thanks to each and every one of you, the members of the 2012 Legacy Society. Thank you for inspiring us, for becoming our partners, and for building this most important legacy at CMRSU," said Paul Katz, MD, Dean of CMSRU. "I know that with your partnership, the future will bring great things, and together we will fulfill the promise of CMRSU's mission."

The Schlitt family was part of that group of special partners who attended the event.  Dr. Ludwig Schlitt, the patriarch of this auspicious physician family, together with his children Drs. Michael, Mark, and Stephanie Schlitt, donated $300,000 to the new medical school. The Schlitt Family operates Advocare Haddon Pediatric Group in Haddon Heights, NJ.

Speaking at the event on behalf of his family, Dr. Michael Schlitt praised his father, Dr. Ludwig Schlitt, for instilling the positive values of hard work and charity, to which he and his family members remain committed.  His father, he noted, trained at Cooper Hospital in 1960, and has remained committed to serving the City of Camden and southern New Jersey for decades. Three of his children eventually joined his pediatric practice, following their father's example in providing exceptional patient care with a humanistic approach.  

The 2012 Legacy Society campaign was an 18-month fundraising initiative launched in 2011 and closed mid-2013, at the conclusion of CMSRU's first academic year.  It provided an opportunity for early donors to financially support the fledgling school and set the tone for CMSRU's life-changing impact on healthcare and medicine. Legacy Society members will be honored annually at a special event, and their gifts are forever commemorated on the newly installed 2012 Legacy Society wall. 

CMSRU is launching its next fundraising initiative, The Promise Campaign, in early 2014.