CMSRU welcomes new students during annual White Coat Ceremony
---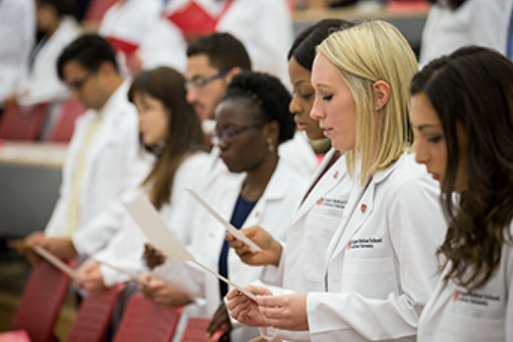 The 88 first year medical students who comprise Cooper Medical School of Rowan University's (CMSRU) Class of 2020 donned their crisp, personalized white doctor-in-training jackets for the very first time on September 16, 2016, during CMSRU's annual White Coat Ceremony.
During the event, held in the presence of nearly 400 loved ones and special guests, students were called one-by-one to the stage where a member of CMSRU's faculty cloaked them in their new coats. The ceremony also included a recitation of the Hippocratic Oath, an affirmation of the Class of 2020's commitment to the highest standards of ethics and patient care. The standing-room-only crowd of parents, spouses, siblings, grandparents and friends traveled from all over the United States to witness this important milestone for their students.
Annette C. Reboli, MD, Interim Dean of CMSRU, cautioned students that the jacket might feel stiff and awkward at first. But as the medical students become more comfortable in their new roles as members of the medical team, she assured them their jackets will soften and become part of their identities. "By the time you graduate, your white coat will be well-worn, well-loved and you will fill it very well," she said.
Nate Link, MD, MPH, chief medical officer of Bellevue Hospital Center in New York and associate professor of medicine at New York University School of Medicine, was the keynote speaker at CMSRU's Class of 2020 White Coat Ceremony. A distinguished physician leader and educator, Dr. Link led the successful and extremely complicated evacuation of Bellevue Hospital during Superstorm Sandy in 2012. In his address to CMSRU's first year medical students, he explained the symbolism of the white coat and the awesome responsibilities that come with it.
"The white coat is a symbol of the sacred trust physicians assume as they enter the profession," he said. "It gives immediate, unconditional access to the inner sanctum -- that special place where patients hold and share their most intimate thoughts, fears and desires. It is an exhilarating and sobering privilege to experience the complete trust of a perfect stranger."
Fifty-four women and 34 men, ranging in age from 21 to 44 years old, comprise CMSRU's Class of 2020, bringing total enrollment at the school to 304. Students were selected from approximately 6,000 applicants, the greatest number since CMSRU started accepting applications in 2011. The students hail from a variety of states, with 66 percent coming from New Jersey. Twenty-three students are alumni of New Jersey's two major research universities, including 11 Rowan University graduates and 12 Rutgers University graduates.
---
About Cooper Medical School of Rowan University (CMSRU)
CMSRU was established in June 2009 through a partnership between Rowan University and The Cooper Health System and is located in Camden, NJ. The first new medical school in New Jersey in over 35 years, CMSRU officially opened in July 2012 and its charter class enrolled in August 2012. In March 2016, CMSRU held its inaugural Match Day with 100 percent of graduating students being offered residency matches. CMSRU's inaugural commencement was held in May 2016, the school earned full accreditation from the Liaison Committee on Medical Education for the maximum five years in June 2016.