CMSRU students hold unique event for local youth to mark MLK Day of Service
---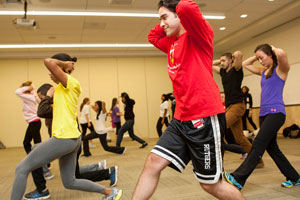 On Monday, the fifty first-year medical students from Cooper Medical School of Rowan University (CMSRU) trained approximately 150 middle, high school and college students from throughout the region to become community leaders in exercise, nutrition and wellness.
The event, "Healthy Habits-Healthy Community," was a service learning project to mark Martin Luther King, Jr. Day. CMSRU students are required to perform 40 hours of community service per year, including planning and hosting a special MLK Day of Service event.
"Our students chose this project as a way to encourage the youth in the City of Camden – and beyond – to not only be healthier themselves, but to become role models in their families and among their peers for living healthy, active lives," explained Jocelyn Mitchell-Williams, MD, PhD, CMSRU's Associate Dean for Multicultural and Community Affairs.
The youth participated in a variety of dynamic sessions throughout the day. This included an overview of healthy eating, a fruit vs. veggie competition, and an interactive food preparation demonstration where they learned to make corn and black bean salsa, a healthy, inexpensive, versatile and tasty recipe that can be prepared with items available at any corner store in Camden.
To teach young participants that they can increase their fitness levels and get stronger and leaner without a gym membership or equipment, CMSRU students lead them in yoga and CrossFit sessions. Another session focused on healthy blood pressure, and participants performed actual blood pressure screenings on the medical students.
With a healthy body, one also needs a healthy mind, so CMSRU's own "Dr. Brain Dude" was on hand with his collection of brains. Dr. Brain Dude, a.k.a. CMSRU biomedical scientist Russell Buono, PhD, accompanied CMSRU students in teaching participants the importance of protecting this vital organ from damage – whether from sports, violence or drugs.
Students who participated in CMSRU's "Healthy Habits-Healthy Community" event earned four community service hours. The majority of participants hailed from Camden, including students from LEAP Academy and Brimm Medical Arts High School. In addition, members of Rowan University's Iota Phi Theta Fraternity, Inc. attended, as well as nearly a dozen members of Steve's Club of Pennsauken, a CrossFit gym that empowers at-risk youth through fitness to make positive, healthy choices in their lives. Steve's Club, which began in May 2007 in a public housing project in Camden, is now a national network of programs through which at-risk or underserved youth of any socioeconomic background can join in the CrossFit Community.
"This was an extraordinarily successful MLK Day of Service, and it was clear that our medical students had a significant impact– it was a day that no participant will soon forget," noted Paul Katz, MD, Dean of CMSRU. "The leadership and commitment of these men and women is remarkable, and is one of the main reasons they were selected to be our school's Charter Class."