Inaugural CMSRU Research Day draws researchers from across Rowan University
---
It was a fantastic day of scientific discovery and networking at Cooper Medical School of Rowan University (CMSRU) last Tuesday, as more than 350 people filled the first floor of the medical education building to participate in the school's inaugural Research Day.
The October 2 event featured morning and afternoon plenary sessions with nationally recognized key note speakers, and a lunchtime poster session with 130 different presentations by researchers from across the colleges of Rowan University.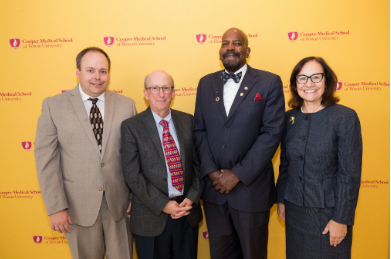 CMSRU Dean Annette C. Reboli, MD, opened the morning session speaking of the importance of collaboration to advance research across the university. She expressed gratitude to Rowan University President Ali Houshmand and the Rowan University Board of Trustees for their support of biomedical research and encouraged student attendees to seek inspiration in their own scholarly pursuits from networking with the faculty presenters.
During his morning welcome address, Rowan University Provost James Newell, PhD, highlighted the dramatic evolution of research by Rowan faculty and students over the past eight years. He described the importance of creating an environment where research can grow and thrive, and how that environment impacts students, faculty and the university as a whole. Newell also discussed Rowan University's recent commitment of $50 million over 10 years to enhance medical and bioscience research in Camden.
"We see a large percentage of this money going to help fund collaboration research in health and health sciences between Camden, Stratford and Glassboro," noted Newell.
Despite a short turnaround time for proposal submissions to access the newly-created research funding, Provost Newell announced that 86 submissions were received by the September 30 deadline and are currently under review, with announcements of awards anticipated in December.
Reboli was pleased with participation in the school's first Research Day, as well as the content of the day, noting that it was one of the most exciting and successful events CMSRU has hosted to date.
"We brought in two excellent national speakers that provided outstanding talks that were both informative and inspirational for all of our attendees," she said. "The poster session, with submissions from across the University, helped everyone to see the scope of the incredible research happening at Rowan, whether in Camden, Glassboro or Stratford."
Ross McKinney, MD, chief scientific officer for the Association of American Medical Colleges, was the morning plenary speaker. He provided keen insight into the future of biomedical research, including challenges and emerging fields and trends.
Beena Sukamaren, PhD, vice president of research at Rowan University, provided the afternoon welcome before Mark Byrne, PhD, founding head and professor in Rowan University's Department of Biomedical Engineering, introduced the afternoon plenary speaker, Cato Laurencin, MD, PhD. Dr. Laurencin is the Albert and Wilda Van Dusen Distinguished Professor of Orthopaedic Surgery and a professor of chemical and biomolecular engineering, materials science engineering, and biomedical engineering at University of Connecticut. He presented "Regenerative Engineering: A New Convergence Field."
"Dr. Laurencin is a pioneer in our field, bringing technologies from research and development to patients," said Byrne. "He is world-renowned for being the first to develop nanofiber technologies for ligament tissue regeneration and for his work on novel polymer ceramic composites for bone repair. It was wonderful to see him share his seminal work in engineering of musculoskeletal tissues with researchers and clinicians at Rowan - and inspire the next generation of leaders that will bridge medicine and engineering to develop new products for patients."
Additional Rowan deans who participated in CMSRU Research Day included Thomas Cavalieri, DO, RowanSOM; Richard Dammers, PhD, College of Performing Arts; Sanford Tweedie, PhD, College of Communications and Creative Arts; Christian Botez, PhD, College of Science and Mathematics; and Lee Talley, PhD, Honors College.
The event concluded with a networking session designed to connect researchers to colleagues with similar scholarly interests to foster collaboration across Rowan's campuses.
Click HERE to view the full gallery of images from the event.