73 graduates earn medical degrees from CMSRU
---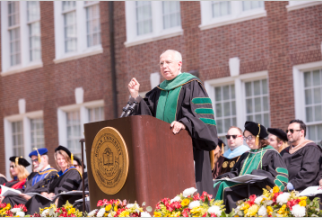 Be strong advocates for patients and embrace the community in which your practice medicine, just as you have embraced the Camden community that
Cooper Medical School of Rowan University (CMSRU)
calls home.
That was the message
Annette C. Reboli, MD
, CMSRU dean, conveyed to the 73 newly-minted physicians during CMSRU's Class of 2018 Commencement. The event was held Friday, May 11, on the picturesque University Green of Rowan University's main campus in Glassboro.
"Stand up for science, for truth, for reason," said Reboli. "Stand up for your patients – especially the vulnerable and the voiceless. Be true to your principles and have the courage and conviction to act on them."
The themes of integrity, compassion and humanism were also a focus of remarks by the day's guest speaker and CMSRU Medal of Excellence recipient, Darrell G. Kirch, M.D., president and chief executive officer of the Association of American Medical Colleges.
Kirch urged the graduates to always remain focused on the needs of their patients, and to be champions for the "have-nots" among us – those with socioeconomic barriers to the outstanding medical care available in the U.S.
Rowan administrators, CMSRU deans, chairs, faculty members, and leadership from Cooper University Health Care processed with graduates onto the University Green for the morning ceremony under bright blue skies.
Students received their doctoral hoods from the directors of their advisory colleges. They were led in the Hippocratic Oath by Dr. William Kocher, associate dean for admissions at CMSRU, who also served as grand marshal.
Three students received special Dean's Awards for their outstanding achievement in areas that resonate with important aspects of the CMSRU mission: Ryan DeAngelis, Dean's Award for Academic Excellence; Amanda Malik, Dean's Award for Humanism in Medicine; and Stephanie Borinsky, Dean's Award for Service to the Community.
In speaking to her fellow doctors, Student Government Association President Kristin Levin reflected on several key programs of the curriculum that provided unique learning experiences for her and her classmates, including CMSRU's early exposure to patient care through the student-run clinic, its focus on community service, and the Cooper Longitudinal Integrated Clerkship (CLIC), during which students learn to manage the ongoing care of patients over time in a variety of settings and learn about the impact of disease and our healthcare system on people's lives.
"Our experiences in clinic, our participation in community service and our encounters in CLIC will allow us to be the great physicians who treat the patients," said Levin, referring to a famous historical quote by Dr. William Osler.
"We understand to not only listen to a patient's heart, but also to their stories. We understand to not only observe a patient's skin, but also to observe a day in their life. We understand to not only feel a patient's abdomen, but also to feel the connection with them that can be forged through continuity of care," said Levin, who is headed off to a residency in otolaryngology at University of Louisville School of Medicine.
"It's been a long road, but we now get to go forth as 73 new physicians who will have the privilege to change the lives of patients every day."
In a few weeks, these new medical doctors move on to the next phase of their medical education as first year medical or surgical residents at residency programs across the country.