Successful Match Day for CMSRU's charter class
---
Cooper Medical School of Rowan University (CMSRU), the Delaware Valley's newest medical school, celebrated a successful Match Day for its charter class today. Forty-two graduating medical students were offered residency positons through the National Residency Matching Program; 98 percent will begin those residencies this year. One additional graduating CMSRU student was placed previously through the Military Match.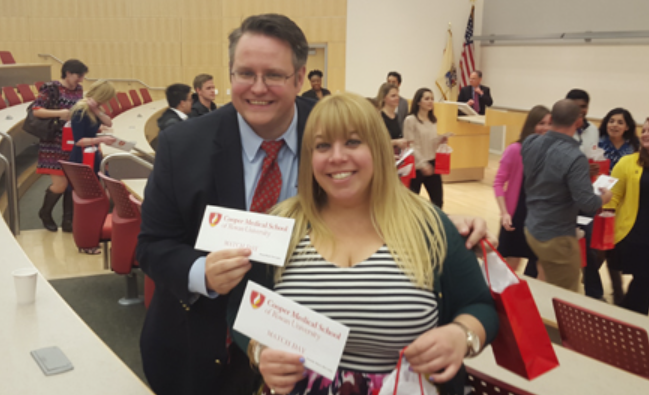 "Match Day is the culmination of many years of hard work for medical students across the country," explains Paul Katz, MD, Dean of CMSRU. "As a new medical school we are especially pleased to see the caliber of the institutions where our graduates will begin the next phase of their education. Given the intense competition for residency spots nationally, their results are extraordinary!"

Twenty-two of the 43 students will be entering specialties that comprise primary care medicine: 15 will begin internal medicine residencies; five will start in pediatrics; two in family medicine.

More than one-third of the class will remain in the Delaware Valley region to complete their training, including eight students who matched at Cooper University Hospital in emergency medicine, general surgery, internal medicine, and vascular surgery programs. Students also matched at the Hospital of the University of Pennsylvania, Children's Hospital of Philadelphia, St. Christopher's Hospital for Children, Temple University Hospital, Thomas Jefferson University Hospital, and DuPont Children's Hospital. Nationally, students matched at a range of esteemed programs, including: Children's National Medical Center in Washington, D.C., Columbia-Presbyterian Hospital, Dartmouth-Hitchcock Medical Center, Boston University Medical Center, University of Southern California, UCLA, and Rhode Island Hospital/Brown University.

According to the National Residency Matching Program, which coordinates the matching process, 18,187 U.S. MD-granting medical school seniors and 35,476 total applicants vied for 27,860 residency positions at institutions across the country.

Results of CMSRU's inaugural match are below.
Jenny Akpe
Jamaica Hospital Medical Center;
Jamaica, NY
Obstetrics/Gynecology
Jordan Barger
Children's National Medical Center;
Washington, DC
Pediatrics - Primary/Community Health
Cristian Barrios
Cooper University Hospital;
Camden, NJ
Internal Medicine
Ryan Belecanech
University of Pittsburgh Medical Center;
Pittsburgh, PA
Internal Medicine
Jennifer Bleznak
Jefferson Medical College/DuPont Children's Hospital;
Philadelphia, PA
Pediatrics
Michelle Breda
Rhode Island Hospital/Brown University; Providence, RI
Medicine-Primary Care
Gita Byraiah
University of Minnesota; Minneapolis, MN
Obstetrics/Gynecology
Gwen Caffrey
Dartmouth-Hitchcock Medical Center;
Lebanon, NH
Internal Medicine
Holly Caten
Boston University Medical Center;
Boston, MA
Otolaryngology
Abhimanu Chandel
Walter Reed National Military Medical Center; Washington, DC
Internal Medicine
Gabriela Chaviano
Rutgers-Robert Wood Johnson Medical School; New Brunswick, NJ
Internal Medicine
Michael Coletta
Cooper University Hospital;
Camden, NJ
Emergency Medicine
Nicole Diaz-Segarra
Lehigh Valley Hospital;
Allentown, PA
Transitional
 
Rutgers-New Jersey Medical School;
New Brunswick, NJ
Physical Medicine & Rehabilitation
Daniel Eisman
New York Medical Center-Westchester Medical Center;
Valhalla, NY
Medicine Preliminary
 
Hofstra NSLIJ SOM-Staten Island University;
New York, NY


Diagnostic Radiology
Sherri English
Resurrection Health;
Memphis, TN
Family Medicine
Lena Fan
Rhode Island Hospital/Brown University; Providence, RI
Internal Medicine
Marci Fornari
Children's Hospital of Philadelphia;
Philadelphia, PA
Pediatrics
Denise Garcia
Medical University of South Carolina;
Charleston, SC
General Surgery
Robert Goldberg
University of Southern California;
Los Angeles, CA
Thoracic Surgery
Kathryn Gussman
Loma Linda University;
Loma Linda, CA
Emergency Medicine
Imoh Ikpot
Ohio State University Medical Center;
Columbus, OH
Anesthesiology
Heaton Kath
Cooper University Hospital;
Camden, NJ
Internal Medicine
Cynthia Kroll
Cooper University Hospital;
Camden, NJ
Internal Medicine
Rebecca Lee
Rutgers-Robert Wood Johnson Medical School; New Brunswick, NJ
Internal Medicine
Daniel Lefler
Hospital of the University of Pennsylvania;
Philadelphia, PA
Internal Medicine
J.C. Lopez
Harbor-UCLA Medical Center;
Torrance, CA
Family Medicine
Amanda McCarthy
Jefferson Medical College/DuPont Children's Hospital;
Philadelphia, PA
Pediatrics
Brian McCauley
Rhode Island Hospital/Brown University; Providence, RI
Medicine-Primary Care
Erin McIntosh
St. Elizabeth's Medical Center;
Boston, MA
General Surgery
Katherine McMackin
Cooper University Hospital;
Camden, NJ
Vascular Surgery
Atlee Melillo
Cooper University Hospital;
Camden, NJ
General Surgery
Jacqueline Park
Stony Brook Teaching Hospitals;
Stony Brook, NY
Internal Medicine
Yash Patel
Temple University Hospital;
Philadelphia, PA
General Surgery
Brittany Scarpato
Boston University Medical Center;
Boston, MA
Internal Medicine
Erica Schramm
Cooper University Hospital;
Camden, NJ
Emergency Medicine
Gururaj Shan
SUNY Health Science Center;
Brooklyn, NY
Emergency Medicine
Etty Sims
Rutgers-New Jersey Medical School;
Newark, NJ
Pediatrics-Preliminary
 
Thomas Jefferson University;
Philadelphia, PA
Anesthesiology
James Stefano
Temple University Hospital;
Philadelphia, PA
Internal Medicine
Stephanie Stoneback
St. Christopher's Hospital for Children; Philadelphia, PA
Pediatrics
Susan Talamini
University of Illinois College of Medicine;
Chicago, IL
Urology
Martin Weaver
Cooper University Hospital;
Camden, NJ
Medicine-Preliminary
 
Jackson Memorial Hospital;
Miami, FL
Physical Medicine & Rehabilitation
Sara Zaidi
New York-Presbyterian Hospital, Columbia & Cornell;
New York, NY
Emergency Medicine