Area medical students convene at CMSRU to address racism an inequity in health care
---
More than 150 medical students from across the Philadelphia region took part in the 5th Annual Racism in Medicine (RIMC) Conference, held recently at Cooper Medical School of Rowan University (CMSRU).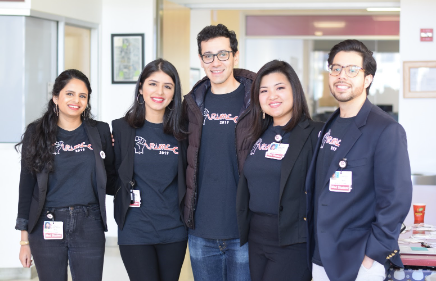 The summit, organized and led this year by CMSRU medical student volunteers, aimed to educate future healthcare professionals about intersectional social issues that affect healthcare. The theme of this year's RIMC was "Immigrant and Minority Health."
"Our goal was to support discussion and facilitate actionable change around a range of issues related to inequities in healthcare and racism in medicine," said Simran Kripalani, a 2nd year medical student at CMSRU who served on and helped lead the RIMC planning committee. 
The event featured plenary sessions by Jenice Forde-Baker, MD, an emergency medicine physician at Our Lady of Lourdes Medical Center in Camden, and John Sanchez, MD, an associate professor of emergency medicine at Rutgers-New Jersey Medical School. Dr. Forde-Baker's address, "A Historical Perspective of How Racism Entered Medical Education," discussed the scientific, historical and social connections between race and medicine, and the importance of addressing these issues to improve racial health care disparities. Dr. Sanchez's talk, "Pre-Faculty Development: A Critical Factor in Diversifying Academic Medicine," addressed the need for equity and representation in the field of medicine and highlighted strategies for improving diversity. He encouraged the future physicians to pursue scholarly work.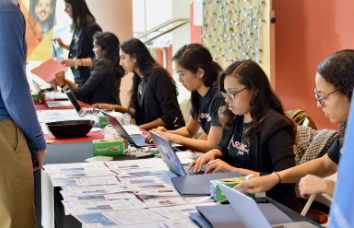 RIMC 2019 also offered 16 different workshops on a range of topics related to immigrant and minority health, including advocacy for minority sexual assault survivors, racial disparities in addictions treatment for minority populations, and the importance of allyship in combating disparities in care. Breakout sessions were led by passionate clinicians and healthcare professionals from throughout New Jersey and Pennsylvania, including three CMSRU alumni:  Priyanka Chugh, MD'19, a surgical resident at Boston University Medical Center; Ronald Ikechi, MD'19, an emergency medicine resident at Rutgers-New Jersey Medical School in Newark; Tammarah Sklarz, MD '19, an internal medicine resident at Cooper University Health Care; and Kudret Usmani, MD'17, an orthopaedic resident at Cooper University Health Care. 
"At this conference, we highlighted topics that we believe deserve actionable public recognition, like systemic oppression, advocating for marginalized populations, and serving as allies in such situations," noted Hsiao-wei Banks, a 2nd year CMSRU student. "As future physicians and healthcare professionals, it is important for us to serve as powerful advocates for our patients, while keeping their unique experiences and identities at the forefront. The sessions at RIMC were designed to resonate with our vision for the future of medicine."
RIMC 2019 participants were also able to network with organizations from Camden and Philadelphia, give back to the community by donating to a food drive, and learn about various resources available for populations in need.
In addition to CMSRU, other sponsors for RIMC 2019 included Geisinger Commonwealth School of Medicine, Temple University's Lewis Katz School of Medicine, Drexel University College of Medicine, Rowan University School of Osteopathic Medicine, Philadelphia College of Osteopathic Medicine, University of Pennsylvania Perelman School of Medicine, Rutgers Robert Wood Johnson Medical School, Rutgers Camden School of Nursing, and Jefferson University Sidney Kimmel Medical College.
---
About Cooper Medical School of Rowan University (CMSRU)
Cooper Medical School of Rowan University (CMSRU) is the only four-year, MD-granting school in southern New Jersey. Developed through a partnership between Cooper University Health Care and Rowan University, CMSRU is a proudly mission-driven school focused on developing highly skilled and socially conscious physician leaders who value a patient-centered, team approach to health care. The Association of American Medical Colleges awarded CMSRU the 2019 Spencer Foreman Award for Outstanding Community Engagement, considered a top national honor for a medical school. The award recognizes the depth and breadth of CMSRU's student-led service learning programs aimed at addressing social determinants of health in the Camden community, and the efforts of its pipeline programs to increase diversity in medicine. 
CMSRU graduated its charter class in 2016. Currently, more than 400 medical students are enrolled and approximately 650 biomedical scientists, physicians, researchers and other medical professionals hold faculty appointments at CMSRU.