Medical Education Building rises in Camden
---
Inaugural class will study in a new, state-of-the-art medical education building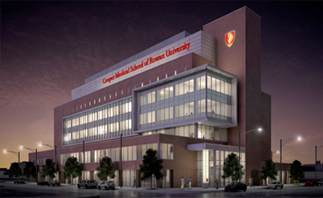 Students at Cooper Medical School of Rowan University (CMSRU) will study in a new, state-of-the-art medical school building located in the heart of the City of Camden.
 
Under construction since October of 2010, the six-story, 200,000 square-foot facility will serve generations of future physicians—and the city itself.
Rising above the Health Sciences Campus in Camden, CMSRU joins Cooper University Hospital, the Coriell Institute for Medical Research, the Ronald McDonald House and the Veterans Affairs Outpatient Clinic in Camden's fast-developing healthcare hub.

"Construction of the Cooper Medical School of Rowan University adds critical mass to the Health Sciences Campus," says Paul Katz, M.D., founding dean of CMSRU. "This school will produce generations of physicians, many of whom will practice here in South Jersey, and that will raise the quality of care for people throughout the region."

The $139 million construction project at South Broadway and Benson Street will be completed by next summer, just ahead of the arrival of the inaugural class of students.

When complete, the project will have created between 300 and 400 construction jobs and an estimated 100 full-time permanent jobs.

A "topping off" ceremony was celebrated May 9 as the final girder for the building – the single largest construction project in the city this year – was lifted into place.

CMSRU is the first four-year allopathic (M.D.-granting) medical school in South Jersey and the first new medical school in the state in more than 30 years. The school recently received preliminary accreditation from the Liaison Committee on Medical Education (LCME), and now has this body's approval to begin recruiting its first class. 

The medical school building will feature classrooms, teaching and research labs, an auditorium and administrative offices. It was designed as a "green" building and officials seek to have it certified by the U.S. Green Building Council as a LEED (Leadership in Energy and Environmental Design) structure.

According to studies, medical schools create at least $3 in economic activity for every $1 spent. CMSRU is expected to attract investors to the Cooper Plaza and Lanning Square areas in retail, medicine, biomedicine and technology.

CMSRU received preliminary accreditation from the LCME on June 9. It will accept 50 students into its charter class and will grow to roughly 400 students at full capacity.
View a fly-by video of the artist's rendering of the building.