'A Medical School with a Soul': CMSRU Celebrates 10th Anniversary
---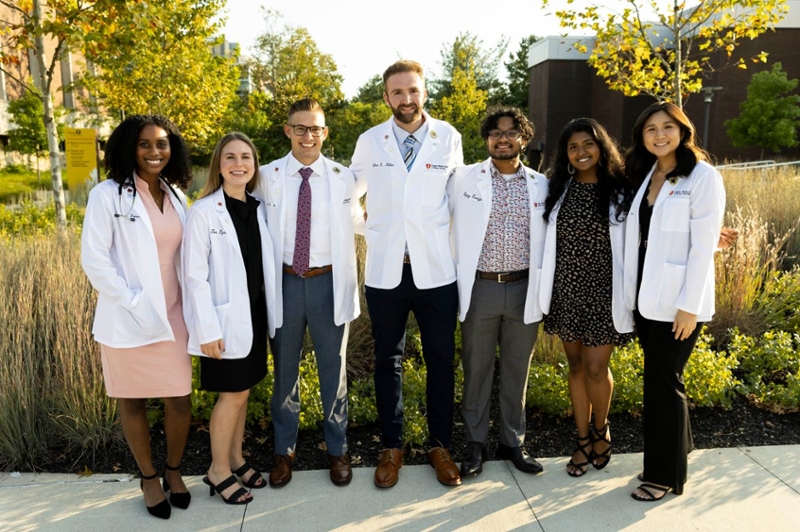 In the summer of 2012, a vision that was decades in the making was finally realized as South Jersey's first new medical school in 30 years – and the only MD-granting program in Southern New Jersey – officially opened in Camden, New Jersey, and welcomed its charter class of medical students.
This new entity, Cooper Medical School of Rowan University (CMSRU), developed as a collaboration between Rowan University, one of the nation's fastest-growing higher education institutions, and The Cooper Health System, which includes the region's only Level 1 trauma center. Its founders set forth a clear vision to address a critical need for more physicians, serve the community in which it's located, and provide a modern curriculum focused on hands-on, team based learning. Additionally, it would strive to educate students with a focus on helping them become compassionate, empathetic medical care providers. 
Today – 10 years after welcoming its first students – CMSRU has surpassed the hopes of even its creators. It has quickly built a national reputation for excellence, developed groundbreaking programs, earned accolades for community engagement, and produced 520 new doctors  – with another 448 future physicians currently enrolled.
"I'm extremely proud," says Annette Reboli, MD, CMSRU's dean and a founding faculty member. "We really wanted our school to have a soul. And part of that soul revolves around our emphasis on humanism and compassion, in addition to academic excellence.
"Our students have exceeded my wildest expectations of them. They are exactly the type of young physicians we'd hoped they would become."
For Dr. Reboli and her colleagues, that's always been the essential goal at CMSRU. The school was designed to foster highly humanistic physicians – medical experts who care deeply and are strong advocates for their patients and community.
These aspiring doctors are educated by more than 700 clinical faculty from Cooper University Hospital and CMSRU's 26 full-time biomedical faculty. Both groups have grown dramatically in recent years.
"The medical school has earned a national reputation for excellence in medical education and its commitment to the community it calls home," says Ali Houshmand, PhD, president of Rowan University, CMSRU's parent institution. "Working together, we've accomplished so much in a very short period!"
Dr. Reboli recently reflected on CMSRU's key achievements – and the school's major goals for the next 10 years. 
Setting the Stage
Well before the charter class arrived, CMSRU's founders spent more than three years planning every aspect of the new institution – from its innovative curriculum to the design of its state-of-the-art, six-story building in downtown Camden, adjacent to Cooper Hospital. In October 2009, leaders from Rowan University and Cooper University Health Care, CMSRU's primary clinical affiliate, celebrated the planned school's announcement with then-Governor Jon Corzine (For details, read CMSRU's history).
"Our first class had just 50 students," recalls Dr. Reboli, who originally served as interim dean, then founding vice dean, and in 2016 succeeded founding dean Paul Katz, MD. "Our current class has 112 students, out of more than 5,000 applicants. Now people know the name CMSRU, they know our rank, they know the type of physicians CMSRU students become."
Of course, CMSRU graduates' success is the most important measure of the school's quality, Dr. Reboli notes. And in that regard, the marks are stellar.
Making their Match
For example, CMSRU graduates' match rate in the National Residency Matching Program is 99% – well above the 92.9% national average for graduating students in U.S. MD programs. (The NRMP places graduating medical students into residency and fellowship positions via a competitive process.)
"Our faculty and staff are fully invested in the success of every student -- from their commitment to attend CMSRU through their successful residency match -- and it shows," explains Dean Reboli. "CMSRU has built a reputation for producing graduates who are very well-prepared for patient care, which helps our match rate stay above average."
CMSRU students match into many of the country's most sought-after residencies and fellowships, from Cooper University Health Care to UCLA to the Ivy League.  
The new grads enjoy an especially strong bond with Cooper, which offers an expanding roster of about 40 residency and fellowship programs.
Learning through Service
Another point of pride is students' extensive work in the Camden community.
Over the past decade, students and staff have partnered with city residents to develop an extraordinary range of  "service learning" opportunities, from youth mentoring to fitness programs to community gardens. To date, students have devoted a remarkable 127,000 hours to such activities – the equivalent of someone working full-time for 63 years!   
Service learning has always been part of the school's DNA. Each student must engage in 40 hours of it annually, and many go beyond this level. This unique requirement provides aspiring physicians with real-world learning experiences while helping local people in need.
"When students work in the community, they meet patients where they live, work, learn, and play. Those experiences provide valuable insights, such as how social factors affect patients' health, or how people may respond to therapies," says Dr. Reboli.
Service learning also helps students build empathy, she explains. "They see barriers that patients face. They learn cultural competence and cultural humility."
This profound commitment led to one of CMSRU's most prestigious honors. The Association of American Medical Colleges (AAMC) in 2019 singled out CMSRU to receive its Spencer Foreman Award for Outstanding Community Engagement.
"CMSRU has integrated the community into the fabric of the school, exemplifying its motto, 'Camden is our classroom; Camden is our home,'" announced AAMC, the accrediting body for U.S. medical schools.
Pandemic Heroes
The COVID-19 crisis only amplified CMSRU students' desire to help – and they found multiple ways to do so.
With faculty supervision, students took charge of Cooper University Health Care's COVID-19 vaccination program, giving 100,000 life-saving shots to area residents.
The soon-to-be doctors also devised a unique program in which they served as communicators between care teams and families of critically ill patients. Called Criticall Connections, it earned an award from the Critical Care Society of America.  

In a separate landmark, CMSRU earned the maximum re-accreditation period of eight years at the height of the pandemic. "Our students, faculty and staff did a lot of work to ensure that outcome," says Dr. Reboli.
Pioneering Approach
CMSRU's innovative curriculum has continually advanced to address changing needs and opportunities.
Learning primarily occurs in "active learning groups" of 8 or 9 students and two faculty members – one physician and one scientist – who work through medical cases together.
"In addition to gaining medical knowledge, the students learn about teamwork, social determinants of health, how to have crucial conversations, and how to disagree respectfully and in a productive manner," Dr. Reboli states.
A leading-edge Clinical Simulation (SIM) Center provides realistic patient encounters with both high-tech mannequins and professional actors. In 2019, the SIM Center moved to a new, larger facility to accommodate more training opportunities.
Moreover, students interact with real patients early – in the third week of school – and often. For instance, they serve as primary caregivers in the free, student-run Cooper Rowan Clinic.
Jennifer Bleznak, MD '16, a member of CMSRU's charter class, is grateful for that hands-on training. 
"One of the biggest skills I learned from CMSRU that I've been able to bring into my work is getting to know people on a much more personal level," says the pediatrician.
Patients are more than a collection of symptoms, she notes. "They are there as a result of what they face in their community, at home and at school. Seeing how that can impact their health and their wellness is a skill that I learned right here."
Evolving Education
Over time, CMSRU has added contemporary topics, including racism, gun violence, climate change, and opioid addiction.
"These issues impact the lives of our patients, so modern physicians need to have the knowledge and skills to address them with people," emphasizes Dr. Reboli.
 "We're preparing our students for long and enduring careers. That includes the development of critical thinking, lifelong learning, emotional intelligence, flexibility, adaptability."
CMSRU is taking its values-based approach to new levels with its Center for Humanism, launched in 2015 through two lead gifts totaling $2.1 million. Support and advocacy for the Humanism Center has continued to grow over the years, and in late 2021, an anonymous friend of CMSRU added $3 million in support of the Center and CMSRU – the school's largest gift to date.

"Students generally start medical school with a high degree of empathy, but tend to lose some of this important quality during their years of rigorous training," Dr. Reboli observes. The center aims to nurture and enhance students' abilities to connect with patients throughout their careers. 

CMSRU's achievements have further expanded opportunities to improve lives. For example, the school in 2018 earned a $2 million federal grant to enhance primary care in New Jersey, and to ultimately provide a national blueprint for health care delivery.
The federal government also awarded CMSRU $1.9 million to prepare disadvantaged students for health care careers, in order to increase diversity in the medical workforce. CMSRU's "PULSE" summer enrichment program, for instance, has served 500 college students since its 2011 inception – and more than 35% have gone on to medical school or other health profession programs.
In other types of advances, CMSRU in 2016 became one of just a handful of U.S. medical schools to offer an accelerated, three-year curriculum, which enables students to graduate a year earlier than with the standard, four-year MD program. "PC3" is available to students seeking careers in internal medicine or pediatrics, with plans to expand it to family medicine as well.
That same year, the school also added a fast-track 3+4 BS-MD program, allowing qualified students to earn their bachelor's degree in three years at Rowan, followed by a four-year medical degree at CMSRU. 
The Next 10 Years
Looking ahead, says Dr. Reboli, CMSRU "will stay on this pathway of continuous quality improvement, charting the path to excellence." 
She identifies several major areas of focus for the coming decade:
expanding research activities
increasing scholarships
adding more global health experiences
enhancing diversity, and fostering inclusion within the school community
growing in size and scope
building education and research in population health
"Over the next decade, we're going to build our research capability in concert with Rowan, our parent university," Dr. Reboli states. That effort will include hiring more research-intensive and biomedical science faculty, and partnering with other scientific institutions.
Key research areas will include cancer and immunology, neurosciences, medical devices and materials, and the science of health care delivery. CMSRU will develop research in the field of health care delivery, which also helps address health disparities.
"These are areas of great need, as well as areas of excellence at both Rowan University and our primary academic affiliate, Cooper University Health Care," says Dr. Reboli. She notes that Rowan, a top-100 research university, is working to achieve "R1" status, the highest level of research institution. 
"All of our research must lead ultimately to improvements for our patients, especially in an underserved city like Camden," she affirms.
Building Opportunities
CMSRU is also working closely with its donors to create more ways to reduce student debt, says Dr. Reboli. In fact, CMSRU supporters have contributed $5.5 million toward scholarships, as part of more than $10 million in total gifts to date.
Making medical school more financially accessible will increase students' wellbeing and enable a more diverse physician workforce, Dr. Reboli notes.
"It's important that students learn to work with an increasingly diverse population, both in the workforce and in our patient community," the dean advises. "It's been shown that patients do better medically when they're treated by those who look like them."

CMSRU also plans to add new educational opportunities for its students as well as nurses, medical residents, its physicians and staff. For example, the school is looking to create various certificate programs that are stackable, so they could ultimately lead to master's degrees.
 Additionally, CMSRU aims to increase its class size further "to have an even greater impact," says Dr. Reboli.
"We want to continue to fulfill promises to our community, and to keep producing the types of physicians we'd want to care for us or our loved ones."