3+4 BS-MD program: From college freshman to medical doctor in only 7 years
---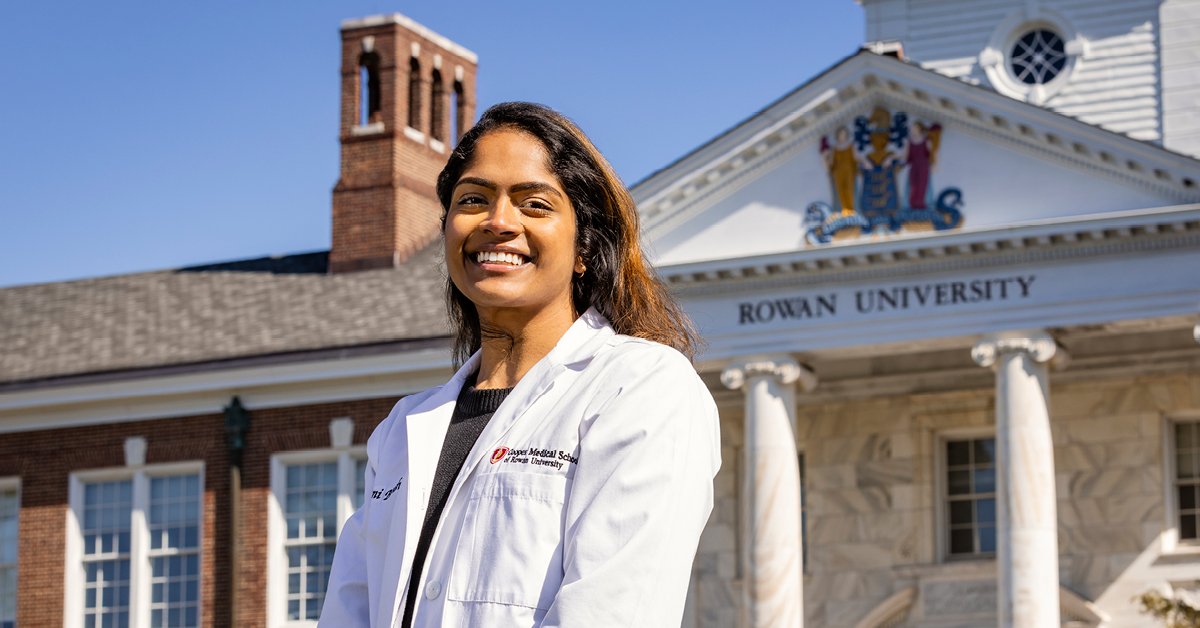 Ever since Poyani Bavishi volunteered with the local team of Emergency Medical Technicians (EMTs) in her hometown of Ridgewood, NJ, at age 16, she envisioned herself pursuing a career in medicine.
"I've always had an interest in helping people who are in vulnerable situations," explained Bavishi, a third-year medical student at Cooper Medical School of Rowan University (CMSRU). "Growing up, I considered pursuing a career as either a social worker, a teacher or a medical professional. I realized I had a passion for empowering people through health."
When Bavishi began the process of searching for colleges, she came across the many educational programs and pathways offered at Rowan University. Upon completing a tour of the campus, Bavishi recalls that something about Rowan felt special to her.
"I could feel the sense of growth around campus," shared Bavishi. "It was clear to me that I could make an impact here." The wealth of opportunities to make her own mark helped Rowan stand out among the competition.
Bavishi applied to and secured a spot in the competitive Accelerated 7-year Biological Sciences (B.S.) and Medical Degree (M.D.) program (often referred to as the 3+4 BS-MD program). Exceptional high school seniors apply to the 3+4 BS-MD program for a chance to complete their undergraduate degree in three years at Rowan University, before transitioning to their medical education at CMSRU in their fourth year. Selected students earn their undergraduate degree and medical doctor degree in a total of seven years, rather than the standard eight-year journey.
"Although there is much to learn in medical education, the process is very long. The 3+4 BS-MD program offers high-achieving, aspiring medical students an opportunity to shave a year off of their undergraduate education, thereby saving a year's tuition," explained Annette C. Reboli, MD, Dean of CMSRU. "Students who complete this program will begin to practice medicine a year earlier than the standard education path. We are proud to support this program as a way to improve access to medical education and ultimately, help repopulate the physician workforce in New Jersey."
As an undergraduate student in the College of Science and Mathematics at Rowan University, Bavishi joined student organizations that matched areas of interest to her - both personally and professionally. As a result, she became a member of M.E.D.L.I.F.E. (Medicine, Education & Development for Low Income Families Everywhere), Alpha Phi Omega and the Admissions Ambassadors. As a student at CMSRU, Bavishi continued to find fulfilling opportunities to engage with and support her community. She is involved with Street Medicine Outreach and the Prenatal Collaborative. Bavishi enjoys the hands-on aspects of the CMSRU curriculum, particularly working in the Cooper Rowan Clinic.
As she reflects on her educational journey, Bavishi values all of the learning experiences that she's had so far – both inside and outside of the classroom.
Bavishi looks to the future with optimism, knowing that she's built a strong foundation for her future career in medicine. "It's humbling to be part of someone's life experiences, and being in a position to support them in pursuing what makes them happy and what makes life meaningful to them," Bavishi shared. "I'm looking forward to making a positive impact in the lives of others."