Soon-to-be doctors "Meet their Match" at special event in Camden County
---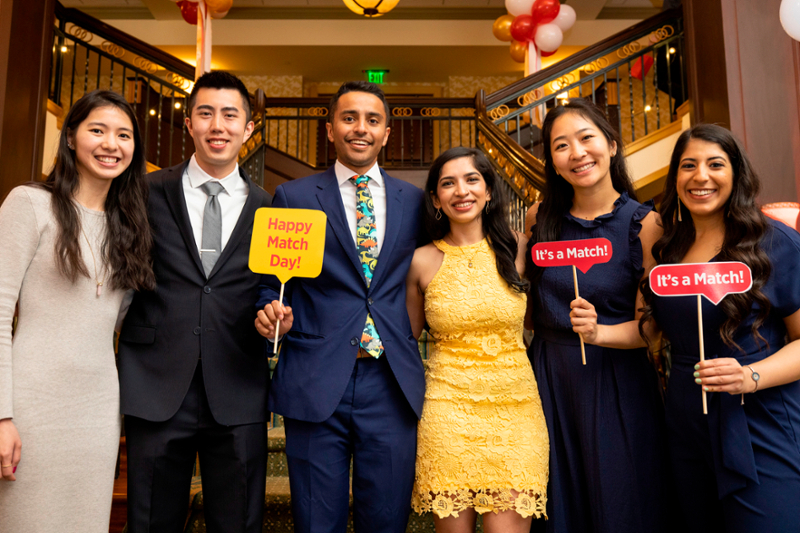 At the stroke of noon today, fourth-year medical students from Cooper Medical School of Rowan University (CMSRU) tore open personalized envelopes to learn where they will begin the next phase of their medical education as resident physicians at hospitals around the nation.
The annual Match Day event is a rite of passage for graduating medical students, who will advance to a three- to seven-year residency program, getting hands-on experience in a specific discipline.
CMSRU's medical students were surrounded by their loved ones, medical school leaders and faculty at The Collingswood Ballroom as they learned their momentous news. This was the first time having the event in person since 2019.
"Match Day marks the culmination of four years of hard work in medical school. It is a much-anticipated day filled with many emotions for all," said Lindsay Fleischer, president of the Class of 2022. "I am honored to have had the privilege of walking this journey with incredibly intelligent, compassionate, and dedicated peers. It has been a joy to be a part of such a special celebration for all CMSRU medical seniors!" 
CMSRU students were offered residency spots at some of the nation's most prestigious and competitive programs, matching in specialties like neurosurgery, dermatology, otolaryngology, orthopedic surgery, integrated interventional radiology, and ophthalmology. CMSRU's overall National Residency Matching Program match rate was 99 percent – well above the national average of 92.9 percent for U.S. MD seniors.
"This is our seventh Match Day at CMSRU, and the excitement never gets old," said Annette C. Reboli, MD, Dean of CMSRU. "Our exceptionally high match rate, as well as the quality of the programs where our students will be going both in the region and across the country, is impressive. I am so proud of our students."
Fifty students (50.5%) are entering training programs that prepare residents in primary care medicine: 35 will begin internal or family medicine residencies; 12 will specialize in pediatrics; and three will go into obstetrics and gynecology. CMSRU students also matched in psychiatry, emergency medicine, general surgery, anesthesiology, pathology, radiology, neurology, and physical medicine and rehabilitation.
Fifteen percent of this class is remaining in New Jersey to complete their training, including eight students who matched at CMSRU/Cooper University Health Care.
Members of this class also matched at a range of esteemed programs across the country, including: Brown, Cornell, Johns Hopkins, Cleveland Clinic, University of Pennsylvania and New York University (NYU). Other well-known and highly regarded programs include: Boston University, George Washington University, Indiana University, Mt. Sinai, Penn State, Rush University, Thomas Jefferson University, University of Arizona, University of California – San Francisco, University of Maryland, University of Massachusetts, University of Texas, University of Utah, and University of Washington.
In addition to CMSRU medical students' success in the match, the CMSRU/Cooper GME residency program achieved a 100 percent fill rate in The Match, filling all of its first-year residency positions. This includes the brand-new Family Medicine residency program.