A Legacy of Compassionate Care: Dr. Eugene Principato
---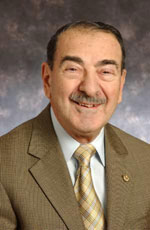 Some people were born to work in medicine. Ninety-two year old retired surgeon, Eugene Principato says that he heard the calling at the age of ten, shortly after a ten day voyage at sea brought him from his home in Naples to live in the United States.
His story begins years earlier in Roggiano Gravino, a small village in Calabria, the southern region of Italy, sometimes affectionately referred to as the "toe" of the Italian peninsula. Born in 1921, Eugene spent the first nine years of his life there with the rolling hills of the countryside and quaint town square as his playground. His family had lived in Calabria for generations and medicine was a way of life. His father was a physician. His father's father was a physician. Though he and his brother would both eventually become doctors, the journey was not at all what they expected.
After serving in the Italian army as a physician in World War I, Eugene's father, Roberto, wanted more for his children than the limited education they would receive in their village. So, with little more than hope for a brighter future, he left Eugene, Luigi and Rosetta with their mother and sailed to the United States by himself. He attended Harvard University to become a practicing physician in America and then took an internship with a group of Italian doctors in South Philadelphia. In 1926, after hearing that Camden, New Jersey desperately needed an Italian-speaking physician, Roberto moved across the river. He became affiliated with Cooper Hospital where he became known as one of the best diagnosticians in the area. He had a reputation for certainty and would often make unannounced visits to patients in their homes to make sure they were recovering properly and taking care of themselves.
Eugene remembers the crossing from Naples to New York very well. Traveling with his mother, brother and sister, he left the only life and the only language he had ever known. When the ship reached its port in Manhattan ten days later on March 30, 1930, he saw his father for the first time in more than six years. He settled into the all-Italian neighborhood in Camden, began to learn English and eventually became an excellent student. Always focused on education, his father sent him to the Hun School in Princeton, a boarding school for boys with an outstanding academic reputation. From there, he was off to Georgetown College, the United States Army and eventually back to Camden to continue his father's legacy of practicing medicine at Cooper Hospital. But if you ask Eugene, the real legacy wasn't becoming a doctor. It was the advice his father gave him years earlier; the same advice he has given countless times to others, "Treat the street cleaner the same as you would the president of the bank and you'll always be happy." Now that's good medicine.
Dr. Eugene Principato recently made a generous contribution to Cooper Medical School of Rowan University (CMSRU) to honor his father and brother. All three names are on a large installation in the main lobby of the medical school building.
---
Note: The CMSRU family regrets to share the sad news of the recent passing of Dr. Principato in February of 2014. His legacy of caring and teaching will live on for many years to come, but those of us who knew him well will miss his friendship and kind smile every day.