Preparing for the White Coat Ceremony on the Threshold
---
CMSRU's White Coat Ceremony and what it means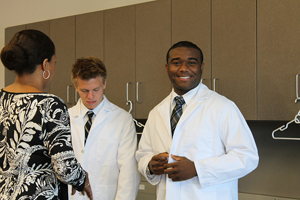 On September 21, the fifty students in the charter class of Cooper Medical School of Rowan University (CMSRU) will get some new clothes.  In the first of many annual ceremonies for CMSRU, these brand-new medical students will put on their spotless white coats. And for many, this will be the very first time that they really begin to feel like a physician.

The White Coat Ceremony – in its current form – is actually a relatively new ritual, started at Columbia University College of Physicians & Surgeons in the early 1990s. However, student doctors have been donning the short white coat for decades, and practicing physicians have been wearing them for over a century (and, prior to that, doctors actually wore black coats!).

So what does this now-celebrated rite of passage mean to students – and to the patients who interact with them? There are many transitions that occur during a medical student's journey from those first anxious interviews, through day one of school, day one in the hospital, through residency interviews, and on to postgraduate training. However, none are quite as publicly visible as the first time a student covers their regular clothes with that pristine coat.

Aside from the purely practical need for a plethora of pockets for instruments, patient lists, phones, and study aids – the white coat identifies the medical student as a healer, a part of the vast and complex healthcare system in our country. And although first year medical students have much to learn on their journeys to truly becoming healers in the true academic sense of the word, said coat can facilitate the first baby steps on that journey. 

Many of us recall the first time a patient called us "doc" with pride – even if we felt a little guilty because we weren't really doctors yet. All because we were wearing the obligatory white coat.  We couldn't prescribe medication, we couldn't determine treatment regimens, we generally couldn't do anything  (or anything right… we all remember "too short…too long" suture trimming in our first surgery rotation). But what we could do – what we had to do – was listen. Listen to our professors, listen to our interns and residents, and most importantly, listen to our patients. As students, we had more time than the "official" doctors, and knowing almost nothing, we asked questions about everything. 

How often does a busy practitioner (for example) take a full family history? (answer:  not often)  How often does a student take a full family history – including pedigree? (answer:  always – well, at least in the first few clinical rotations) Why is it important?  Aside from the obvious medical implications of a full family history, it means that the student is spending time with the patient, learning about the patient – not only the medical facts, but really learning about them. Few practitioners have the luxury of spending an hour in the hospital or exam room with one patient, but students often can. And in that setting, they are first allowed into the life of that patient.  They are permitted to develop that special relationship – one reserved for patients and those wearing the white coat.

As CMSRU's own charter class embarks upon their medical journey, we harken back to our own beginnings – the first "doc", the first "just right" suture, the first "thank you" from a patient – and strive to pass along the joy of all of those firsts to these students, our own first class.

And so it begins.