CMSRU to Combat Student Food Insecurity with New On-Campus Food Pantry
---
Cooper Medical School at Rowan University (CMSRU) has launched a new food pantry in the medical school building in Camden.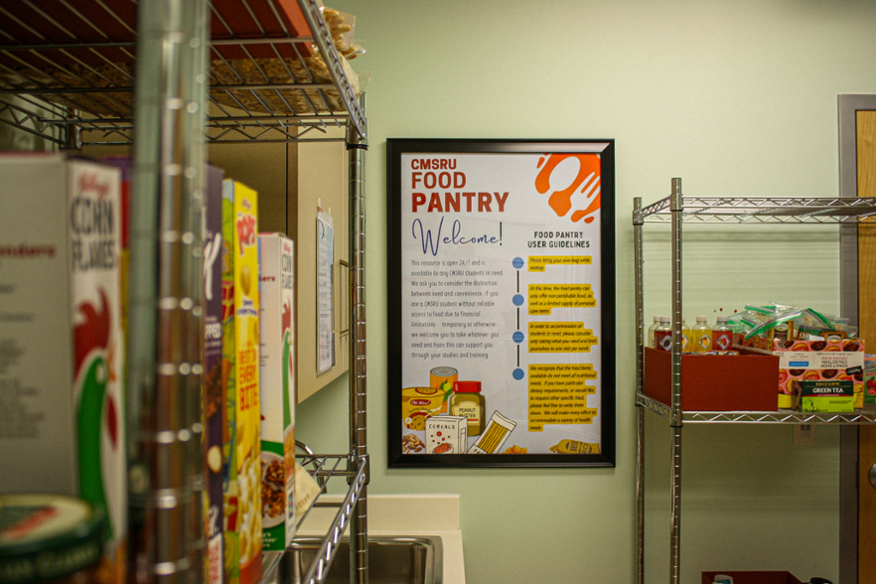 The CMSRU Pantry, which had a soft opening on September 5, provided students who may be experiencing food insecurity with access to free nonperishable food items and personal care supplies. An easily accessible room on the second floor, room 234, was outfitted to serve as the pantry.
A recent study published in Family Medicine suggests up to 12 percent of medical students may be experiencing food insecurity—having inconsistent and inadequate access to nutritious food.
"Being a medical student is challenging, expensive, and a full-time commitment. The last thing we want is for any of our learners to be food insecure," said Annette C. Reboli, MD, dean of CMSRU. "This pantry will provide some much-needed support for students to ensure their wellness and quality of life while they are busy learning medicine."
Previously, CMSRU students seeking these services utilized The SHOP Food Pantry at Rowan University's main campus. However, CMSRU quickly recognized some of the challenges with this arrangement, as many students expressed they did not have the means to go to Glassboro to fully take advantage of this program. Consequently, CMSRU decided to develop its on-campus pantry—making it easier for students to benefit from the available support services by eliminating the need to travel.
The new food pantry is a result of a collective effort from various faculty and staff members at CMSRU and Rowan University. The team consisted of Guy Hewlett, MD, associate dean for diversity & community affairs; Sue Liu, assistant director of community affairs; Marion Lombardi, EdD, assistant dean for student affairs; and Felicia Gordon Riehman, director of development. The team worked closely with the individuals responsible for The SHOP, including Andrew Perrone, EdD, assistant director for the office of volunteerism & community engagement at Rowan University.
The CMSRU Pantry primarily intends to support students facing food insecurity, though it will not require a demonstration of financial need.
CMSRU will stock the pantry with faculty, staff and student donations and items purchased using contributions from the school's Student Emergency Assistance Fund. The SHOP Food Pantry at Rowan has also committed to helping keep the pantry stocked. The pantry will accept nonperishable food items, such as canned goods, pasta, rice, prepackaged snacks, peanut butter and jars of sauce. It will also take personal care products, like toothpaste, toilet paper, deodorant, menstrual products, paper towels and shampoo.
CMSRU plans to collect donations for the pantry through various drop-off sites on campus. Faculty and staff can also support the food pantry and the Student Emergency Assistance Fund by making tax-deductible donations here.
The CMSRU Food Pantry is a proud addition to a list of supports available to students experiencing food insecurity and other financial hardships. Students in need can contact the CMSRU Financial Aid Office for more information about debt management, financial literacy and scholarship resources. They can also utilize a range of free counseling services offered by the Office of Student Affairs. In times of personal financial crisis, students should consider applying for assistance from the Student Emergency Fund.
Questions about the CMSRU Food Pantry can be directed to CMSRUfoodpantry@rowan.edu.