Rowan PR undergrads collaborate with real-life clients in Camden
---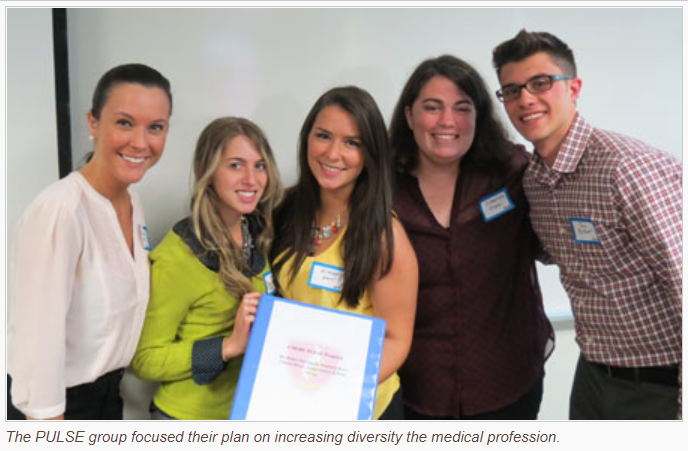 The PULSE group focused their plan on increasing diversity the medical profession.
This spring, a group of senior-level undergraduate students gained valuable professional experience and learned the important role that a comprehensive and detailed strategy plays in the success of a marketing and PR campaign thanks to a visionary, project-based Public Relations Planning course at Rowan University.
The young men and women were grouped into teams of about a half-dozen students at the start of the semester. Each team was assigned a real-life client for whom they would create a comprehensive public relations plan. At the end of the semester, the students presented their public relations plans to their clients as a capstone project. This year's clients included Ronald McDonald House Charities and
Cooper Medical School of Rowan University (CMSRU)
.
"This was an excellent opportunity for students from Rowan's Glassboro campus to gain hands-on experience, while also learning about CMSRU," said Sharon R. Clark, Director of Marketing and Public Relations at CMSRU. "They brought a fresh perspective, and were diligent, thorough and creative. We were very impressed with their final presentations and may actually be able to incorporate some of the ideas they shared."
At CMSRU, one team focused on PULSE, a six-week summer enrichment program for college students that aims to increase diversity in health professions. The other team focused on the student-run clinic, which provides free medical care to Camden residents in an outpatient office on the Health Sciences Campus. The teams began their work in late January by conducting site visits and interviews with key personnel, including medical students, program directors and deans.
"Teams were asked to identify and address a challenge facing the client, such as image awareness, new product or service introduction, information, recruitment, crisis management, employee relations, or persuasion," explained Professor Linda Pollock, M.A., who led the course. "I was proud of the work completed by the students. Now they have something significant they can add to their resumes and portfolios."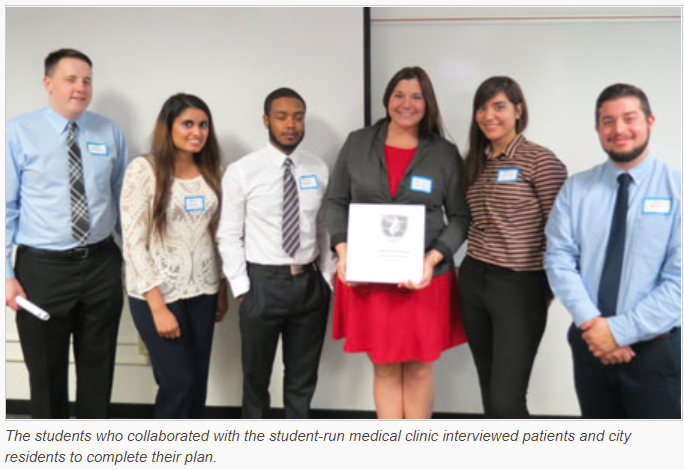 The students who collaborated with the student-run medical clinic interviewed patients and city residents to complete their plan.
Public Relations & Advertising is a popular major in the College of Communication & Creative Arts at Rowan University. One of the oldest and largest in the country, the program has received "Certified in Education for Public Relations" (CEPR) status from the Public Relations Society of America. Several of Rowan's public relations faculty members also are Accredited in Public Relations (APR). Rowan's Anthony J. Fulginiti PRSSA Chapter has earned more national awards than any other PRSSA chapter in the country. It holds the distinction of being recognized as the nation's outstanding PRSSA chapter a record eight times.
CMSRU is a proudly mission-driven school focused on developing highly skilled and socially conscious physician leaders who value a patient-centered, team approach to health care. To support this goal, the CMSRU curriculum includes 40 hours per student of non-healthcare related community service in Camden per academic year. Most, however, far surpass the minimum number of hours. During the 2013-2014 academic year, over 5,000 service learning hours were completed by CMSRU's 114 students in the City of Camden.