CMSRU faculty member honored at Rowan Excellence Awards
---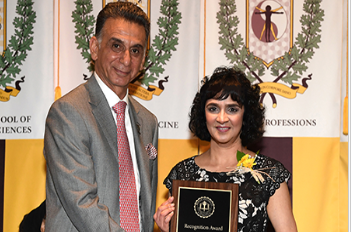 Sangita Phadtare, PhD, associate professor of biomedical sciences at Cooper Medical School of Rowan University (CMSRU), was recently honored during the Annual Celebrating Excellence Awards ceremony at Rowan University as the recipient of a Rowan Values Award.
Open to all faculty and staff on all of Rowan's campuses, the Values Awards are designed to recognize and reward employees for their extraordinary efforts to support the values of the University. These values include: Student Centeredness, Customer Service, Engagement, Entrepreneurship, Inclusivity and Teamwork.
Dr. Phadtare was honored for "Student Centeredness," a philosophy which acknowledges the student's voice as central to the learning experience for every learner and refers to a wide variety of educational programs, learning experiences, instructional approaches, and academic and programmatic supports that are intended to address the distinct learning needs, interests, aspirations, and cultural backgrounds of individual students and groups of students.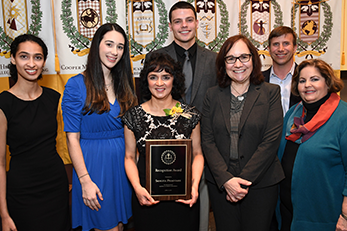 "Dr. Phadtare is an exemplary teacher," says Annette C. Reboli, M.D., interim dean of CMSRU. "She does an excellent job of motivating our students to become better physicians by getting them excited about the subject areas she teaches through her own passion for the topics."
Upon joining CMSRU in 2014, Dr. Phadtare spearheaded the re-design of the M2 Gastroenterology course in collaboration with her co-course director, Joshua DeSipo, MD, assistant professor of medicine. She also implemented new teaching methods such as Patient Oriented Practice (POP) sessions and "one-a-day" nutrition questions to help students become active participants in their education.
In a letter supporting the nomination of Dr. Phadtare, Dr. DeSipio outlined her focus on improving academic quality through student engagement, motivation and satisfaction. "From the time she started at CMSRU she set out to help the school and those who have come in contact with her," he wrote. "She is one of the most remarkable educators I have ever encountered."
Upon receiving the award, Dr. Phadtare thanked Rowan President Dr. Ali Houshmand, the award selection committee and Interim Dean Reboli. She also expressed her sincere gratitude to the faculty members with whom she works, including: Farah Morgan, MD, assistant professor of medicine; Evren Burakgazi-Dalkilic, MD, associate professor of neurology; Christopher Deitch, MD, assistant professor of medicine; and faculty from the Department of Biomedical Sciences, especially her mentor, Charlene Williams, PhD, professor of biomedical sciences.
Dr. Phadtare gave special tribute to Dr. DeSipio for his unwavering support both in teaching and in research. "Once in a while you come across someone who shares the same passion and the same vision as you and thus whatever you touch, it works out," she noted. "Dr. DeSipio has been that person for me."
But Dr. Phadtare notes that it's the CMSRU students who inspire and motivate her. "Our students are intelligent, hardworking, and very, very passionate about the profession they have chosen," she said. "I dedicate this award to all of my students; they make me who I am."
The Rowan University employee recognition program recognizes and rewards faculty and staff for work and behaviors that support the mission, goals, values and initiatives of the university. The work and behavior must be considered "above and beyond" the day to day responsibilities of the Rowan community member.