CMSRU students present Excellence in Teaching Awards to Two Faculty Members
---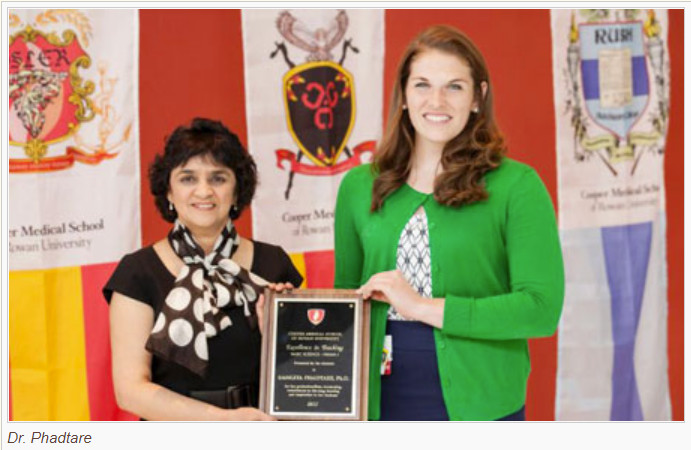 On May 11, students at
Cooper Medical School of Rowan University (CMSRU)
awarded Excellence in Teaching Awards to two faculty members: Sangita Phadtare, PhD, Associate Professor of Biomedical Sciences, and Anna Headly, MD, Director of Ambulatory Clerkship.
The CMSRU Excellence in Teaching Awards recognize faculty members who embody the CMSRU ideals of mentorship, professionalism, and life-long learning. Both recipients were nominated for their desire to go above and beyond what is expected of them as mentors to their students. Dr. Phadtare received the award for biomedical science teaching, while Dr. Headly won the clinical teaching award.
"Dr. Phadtare continually goes above and beyond the expectations of a medical school professor," explained Kristen Levin, a first year medical student at CMSRU. "Her passion and commitment to ensuring that her students understand new concepts is remarkable. She is an advocate for her students, and cares about the Camden community as her love of teaching is felt beyond the walls of CMSRU."
Dr. Phadtare, Associate Professor for Biomedical Sciences, is no stranger to professional recognition. Last year she was the recipient of the Distinguished Service Award from Rutgers School of Health Related Professions. "The Excellence in Teaching Award is truly a great honor and I am privileged to teach this incredible and inspiring group of students. I dedicate this award to them," said Dr. Phadtare. "I would also like to thank my wonderful colleagues for all their support."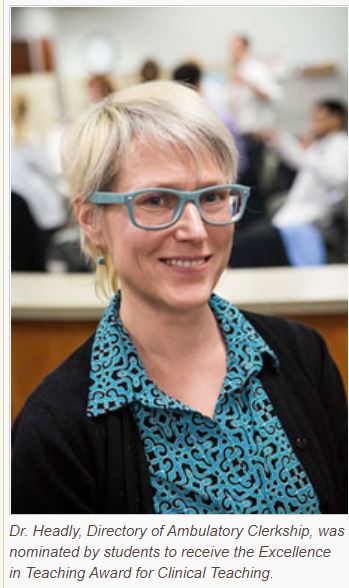 Dr. Headly, Directory of Ambulatory Clerkship, was nominated by students to receive the Excellence in Teaching Award for Clinical Teaching.
As director of CMSRU's student run clinic, Dr. Headly oversees the planning and logistics of this important community program, which provides free primary medical care to Camden residents. The clinic, which is open three days per week, involves every medical student in the school, an average of seven faculty each day, and hundreds of patients who come there for treatment.
"Dr. Headly's philosophy is to learn through doing, which we experienced firsthand as she encouraged us navigate the front lines of patient care in our student-run clinic," said Aneta Pariaszevski, a second year student at CMSRU. "She's incredibly supportive and was able to maintain the calm in the middle of the clinic storm. Her teaching infused humanism and personality into clinical medicine, and we cannot thank her enough for her contribution and support."
CMSRU opened in summer 2012 as a partnership between the Cooper Health System and Rowan University. It is the first new medical school in New Jersey in over 35 years and the only four-year MD-granting medical school in South Jersey. CMSRU received preliminary accreditation from the Liaison Committee on Medical Education (LCME) in June 2011, and full accreditation will be complete upon the charter class' graduation next spring.