Motivated teens learn science and medicine at CMSRU summer school
---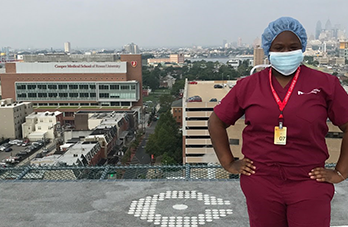 You're nearing the end of your high school career and want to figure out if the healthcare field is for you before applying to colleges. Or maybe you are sure, but want to complete some science related, hands-on extracurricular coursework to strengthen your academic resume. Now, Cooper Medical School of Rowan University (CMSRU) is helping teens understand what a future as a medical student will be like through MEDacademy, a four-week summer enrichment program for rising high school juniors and seniors.
MEDacademy, created in 2015, exposes high school students to lectures, hands-on demonstrations, case-based learning activities and interactive clinical simulations. After a competitive admissions process, dozens of students from all over South Jersey took time out of their summers to explore the world of medicine.
Sicily Samuel, from Winslow Township High School, said her favorite part of the program was working in the human anatomy laboratory. Indeed, this one-day activity was one of the most memorable for the majority of students because it provided them with a unique privilege usually reserved for post-graduate students of medicine and other life sciences.  
MEDacademy students explored cardiopulmonology, neurology, pathology and gastroenterology in the program.  Learning took place through lectures and small group, active learning sessions where they applied the knowledge in case studies. Some days, specialists offered guest lectures, providing the MEDacademy students with more in-depth discussions about what it's like to work in the field.
"Dr. Fox was really honest about what medical school was like. She told me that you're going to stress, you're not going to know everything, not be able to do everything. Even though I didn't want to hear it, I needed to," said returning student Nishant Menon from Eastern Regional High School about trauma surgeon Nicole Fox, MD, assistant professor of surgery. "It really opened my eyes to trauma surgery."
Many students who completed the four week program wanted to return, so CMSRU developed a two-week MEDacademy Masters program, which focused on the skin and musculoskeletal system.  In addition, students explored human anatomy more in-depth with five dissecting sessions in the Human Anatomy Laboratory.  
"I just really enjoyed it last year. It was a very different experience from anything else I've ever done," said Lauryn Hauler, a rising senior from Rancocas Valley Regional High School. "We basically got to pretend we were med students and go through a normal day. There were a lot of good people in the program as well, so I wanted to come back and get the next half of the experience."
The MEDacademy experience was not all rigorous academics and laboratory work. There were tours of the hospital, competitive games of "science" jeopardy, and even some community service - which is a huge part of CMSRU's mission. One day, the MEDacademy students made about 230 peanut butter and jelly sandwiches for Cathedral Kitchen, the largest emergency meal provider in Camden serving over 100,000 meals per year.
In August, MEDacademy and MEDacademy Masters held graduation ceremonies, which included student presentations of capstone projects to family, friends and the CMSRU community. While a few posters explored aspects of medical science, most were focused on social context of health care delivery or public health issues.
"At CMSRU, we believe that understanding obstacles, such as limited patient access or noncompliance, is vital for future physicians," explained Jocelyn Mitchell-Williams, MD, Associate Dean for Diversity and Community Affairs, who oversees the MEDacademy programs. "We focus on this with our MEDacademy students as well, so they have a clearer vision of the challenges faced every day not only by patients, but also by physicians, nurses and other healthcare professionals."
Over the four weeks, strong bonds were formed between the medical students who facilitated the program and the enrolled high school/rising college students. There was much appreciation and gratitude from both sides for what each taught the other this summer.
In the graduation closing remarks, second year medical student and MEDacademy Masters facilitator Lauren Treene told parents that their children were brilliant and constantly impressed her. She noted the program's emphasis on the human anatomy lab and the students' enthusiasm for it helped her gain new respect for the part of the curriculum that had, up until that point, been her least favorite of medical school.
"Truly, I wish you were my classmates," Ms. Treene said to the teens. "I wish you were going into your second year of medical school with me because I would love to learn beside each and every one of you."
All facilitators encouraged their students to never give up no matter what people will tell them on their journeys.
Shifan Li, another medical student facilitator, ended with a quote from Eleanor Roosevelt, "The future belongs to those who believe in the beauty of their dreams."
Click HERE for more information about MEDacademy.
Applications for MEDacademy 2018 for summer will be available in the winter. Please click HERE to submit your contact information to us to receive a copy of the application when it is available.