Study by CMSRU Neurology Chair & Professor Published in NEJM
---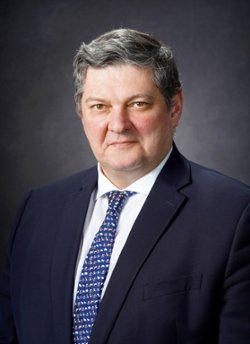 Internationally known stroke expert Tudor Jovin, MD, chair of the department of neurology and professor of neurology at Cooper Medical School of Rowan University (CMSRU) and medical director of the Cooper Neurological Institute at Cooper University Health Care, is co-principal investigator and lead author of a study published today in The New England Journal of Medicine, one of the world's leading medical journals.  
The randomized, five-year trial conducted in China compared the efficacy of thrombectomy, an innovative minimally invasive surgical procedure, to treat acute basilar artery occlusion (BAO), versus medical therapy only, in 217 patients (110 in the thrombectomy group and 107 in the control group). At the conclusion of the study, the researchers found that the thrombectomy procedure led to a higher percentage of patients with good functional status at 90 days compared to patients who received medical therapy only.
BAO is a rare, but often fatal, type of stroke. The basilar artery is the main artery that supplies blood to the back portion of the brain and the brainstem. Blockage of the basilar artery causes a potentially catastrophic medical condition that leads to death or severe disability in up to 68% of patients who suffer this kind of stroke. Currently, most patients presenting with BAO are treated medically with intravenous, clot-busting medications and supportive care, often with poor results.
"This study shows great promise and progress in treating some of the most devastating kind of strokes. Up until now, the effects and risks of endovascular thrombectomy six to 24 hours after stroke onset due to basilar-artery occlusion have not been extensively studied," explained Dr. Jovin. "We know that blockages of the basilar artery are frequently devastating with high morbidity and mortality rates.
"Recognizing the effectiveness of this form of treatment may lead to it being used sooner and more frequently in BAO stroke patients, giving physicians more clinical options," said Dr. Jovin. "Widespread use of endovascular thrombectomy in these types of stroke could save many lives."
For more about the study, visit the New England Journal of Medicine. 
---
About Dr. Jovin and the Cooper Neurological Institute
Dr. Jovin, an internationally renowned neurologist and researcher who joined CMSRU and Cooper in 2019, is an expert in the interventional and non-interventional treatment for the entire spectrum of stroke and cerebrovascular disorders. He is board certified in neurology and has additional board certifications in vascular neurology and critical care neurology. He was one of the nation's first interventional neurologists, a medical subspecialty that uses minimally invasive technologies applied from within the vessels to diagnose and treat diseases of the arteries and veins of the head, neck, and spine such as acute stroke, carotid stenosis, intracranial aneurysm, and arteriovenous malformations.
The Cooper Neurological Institute (CNI) is fully dedicated to the diagnosis and treatment of neurological and neurosurgical issues. The institute offers diagnostic and treatment options for a wide range of conditions from spinal traumas to strokes to hydrocephalus, as well as comprehensive neuro-oncology and neuromuscular care.
Earlier this year, the CNI transformed neurological care in the region with the opening of a new, dedicated Acute Stroke and Neuro Interventional Suite within its Emergency Department – the first of its kind in the nation. Cooper was the first comprehensive stroke center in the United States equipped with the latest generation Siemens Healthineers biplane angiography suite integrated with a CT scanner, providing fully integrated surgical image guidance for minimally invasive treatment of strokes.
The suite is designed to treat emergent and non-emergent forms of cerebrovascular disease including acute stroke of any type, cerebral aneurysms, carotid artery disease, and other vascular conditions affecting the brain and spinal cord. This "one stop shop" approach represents an innovative model of care addressing the critically time-sensitive nature of neurovascular emergencies.