CMSRU wins prestigious national award for outstanding community engagement
---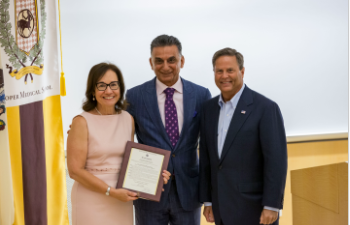 CMSRU Dean
Annette C. Reboli
and Rowan University President Ali Houshmand accept a U.S. Congressional Proclamation from Congressman Donald Norcross (far right) in honor of winning the AAMC Spencer Foreman Award.
What a great day! What a great day!" Congressman Donald Norcross exclaimed to a packed auditorium at
Cooper Medical School of Rowan University (CMSRU)
. That sentiment captured the electricity in the room, as CMSRU announced it has won a major national honor.
The Camden school, which admitted its first class just seven years ago, prevailed over formidable competition to win the Association of American Medical Colleges (AAMC) 2019 Spencer Foreman Award for Outstanding Community Engagement.
More than 300 students, faculty, staff, and community partners attended the special August 19 gathering, where CMSRU Dean Annette C. Reboli, M.D., revealed the exciting development.
The award recognizes the many ways CMSRU partners with the Camden community, to both improve residents' well-being and educate future physicians.
"I'm so proud of our school and community for earning this incredible distinction," said Reboli. "This award singles out CMSRU as an exemplar of social responsiveness in the academic medical world. It's validation of our students' hard work and dedication, and that of everyone associated with CMSRU."
The crowd reacted with broad smiles and enthusiastic applause to her announcement.  
"I was thrilled to hear the news!" said student Katie Fenton, who helped start a CMSRU program that serves Camden's homeless veterans, now in its third year. 
"The fact that we won an award that goes to one medical school out of the entire country – and to be such a young medical school – is a huge honor. I do think we have the best community service!"
Rowan University President Dr. Ali A. Houshmand called the recognition "an amazing accomplishment." 
"Congratulations to everyone at CMSRU and our community partners for making this achievement possible," he said. "It's another step toward Rowan's goal of helping Camden become a world-class center of medical education and research."
Partnering with local residents
AAMC stated that "CMSRU has integrated the community into the fabric of the school, exemplifying its motto, 'Camden is our classroom; Camden is our home.'"
"There are no barriers between the school and the community," agreed Dan Lombardo, CEO of Volunteers of America, Delaware Valley. Lombardo is one of two Camden community representatives who are also full members of CMSRU's admissions committee – a partnership that ensures incoming students embody the school's mission of service.
Indeed, starting with the first class, CMSRU students are required to participate in 30-40 hours of community service (also known as service learning) each academic year. And many go beyond this level.
These activities are designed in collaboration with community groups and residents to address their needs and priorities – from access to primary care and nutritious food, to educational and fitness opportunities.
"I've been humbled by the extensive interaction with our community partners, and thank them for welcoming CMSRU as their neighbors," said Jocelyn Mitchell-Williams, M.D., Ph.D., CMSRU's associate dean for multicultural and community affairs. "We listened and learned how a medical school could be helpful to them, not the other way around.
"These experiences allow our students to develop meaningful relationships with our community, and a deeper understanding of the social factors affecting health."
This commitment has added up: In the most recent academic year, CMSRU students spent 17,650 hours on service learning – and more than 67,000 hours since the school's inception. 
Variety of options
In addition to their required hours spent in the Cooper Rowan Clinic – a free, student-run medical clinic for people who are uninsured or underinsured –CMSRU's aspiring doctors have more than 20 service-learning programs to choose from, such as:
Sidekicks, in which medical students become trusted supports for young patients with serious illnesses and their families.
Cathedral Kitchen, in which students and staff serve meals to Camden residents coping with food insecurity.
Educational programs that help the city's youth excel, including after-school tutoring and mentoring programs, and a science program for English-language learners.
"Pipeline programs" that teach Camden elementary- to college-age students about health topics and medical professions. (44% of graduates of the college-age program have enrolled in medical schools, including CMSRU!)
According to AAMC, each of these programs exemplify the "trust and mutual respect between CMSRU and numerous organizations, industries, and neighbors with the shared goal of making all nine square miles of Camden a great place to live."
Plus, students find value in these opportunities, Dean Reboli noted.
"They can do impactful things like work in a community garden, coach soccer, help with arts programs, or assist with children's exercise classes," she said. "They make personal connections and really make a difference. It's a win for everyone." 
AAMC will formally present CMSRU with the Spencer Foreman Award at the organization's annual meeting in November. Now in its 26th year, the award was renamed in 2007 to honor Spencer "Spike" Foreman, M.D., who established it while serving as chair of AAMC.