Annette C. Reboli, MD, named dean of CMSRU
---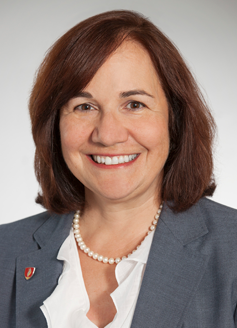 Rowan University has announced the appointment of Annette C. Reboli, MD, as dean of Cooper Medical School of Rowan University (CMSRU).
Reboli, a professor of medicine who served as the school's interim dean since July 2016, is a prominent infectious diseases expert with solid history of scholarship and a decades-long commitment to medical education. She played a key role in the development and launch of CMSRU as its founding vice dean, a position she held prior to her appointment as interim dean. 
"Dr. Reboli has a comprehensive understanding of academic medicine and strong, insightful leadership skills that I believe will serve CMSRU well as it reaches maximum student population and embarks on a progressive initiative to enhance medical and bioscience research at the school," said Ali A. Houshmand, president of Rowan University. "She also brings with her a level of professionalism, integrity and compassion that make her a role model for students and faculty, alike. I am extremely pleased, grateful and proud that Dr. Reboli has accepted this position."
Reboli's work with CMSRU dates back to 2009, following the formation of a partnership between Rowan University and the Cooper Health System to launch the medical school. While serving as head of Cooper's Division of Infectious Diseases, deputy chief for administration for the Department of Medicine and hospital epidemiologist, Reboli led a team of 130 faculty and administrators from both organizations to establish the school's foundational elements, including preliminary accreditation by the Liaison Committee on Medical Education (LCME), curriculum development, strategic planning, building design, faculty affairs, student affairs, research, resources, and potential clinical affiliations beyond Cooper.
In 2010, Reboli was named CMSRU's founding vice dean and was responsible for building and managing programs in faculty affairs and faculty development, as well as overseeing the school's offices of Medical Education, Diversity and Community Affairs, Graduate Medical Education and affiliations. Leading up to and following the 2012 enrollment of the school's charter class, she led the multi-step LCME accreditation process which culminated in 2016 with full accreditation for five years, the maximum allowed for a new school. In fact, Reboli's diligence and attention to detail helped the school achieve accreditation visits with zero citations or areas of non-compliance, a rare accomplishment during this rigorous process.
"I am most appreciative of the rare and wonderful opportunity to participate in the development of a new medical school,'" explained Reboli. "As CMSRU's new dean, I look forward to continuing the effort to provide a well-rounded medical education to students – one that imparts them with the knowledge, skills and compassion they will need to be the physician leaders of tomorrow." 
Under her leadership, Reboli plans to foster a culture of empowerment, innovation and creativity while never losing sight of CMSRU's humanistic mission, vision and core values. "Our core values – diversity, personal mentorship, professionalism, collaboration and mutual respect, civic responsibility, patient advocacy, and life-long learning – and our adherence to them, distinguishes CMSRU from other medical schools," she said. "We will continue embracing those values as we work with Cooper and Rowan to foster the creation of knowledge through the enhancement of research and scholarship programs." 
Board certified in internal medicine and infectious diseases, Reboli has had her own very productive clinical research career. She has published over 180 papers in the peer reviewed literature, scientific abstracts, book chapters, monographs, and electronic resources. Over the course of her career, Reboli has garnered over $10 million in research support from a variety of sources, including NIH, NIAID, private foundations, and private industry. She is internationally known for her research interests into serious fungal infections, particularly invasive candidiasis. Reboli has been named a "Top Doctor" in a host of magazines, including New Jersey Monthly, Philadelphia Magazine, South Jersey Magazine, SJ Magazine, and Consumers' Checkbook
Reboli earned her undergraduate degree from Georgetown Universi­ty College of Arts and Sciences in Washington, D.C., and completed her medical degree with honors from Georgetown University School of Medicine. She completed an internship, residency and a year as chief medical resident in internal medicine at Georgetown University Medical Center, followed by a three-year clinical and research fellowship in infectious diseases at the Medical University of South Carolina in Charleston, S.C.