CMSRU Deans Forge Partnership with Lanning Square Students
---
School supplies help to start the year right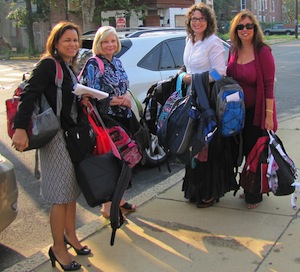 On a warm September morning, a group of nine and ten year old boys and girls in crisp school uniforms sat attentively in their Lanning Square School classroom as their principal, Katrina T. McCombs, announced the arrival of some special visitors to the Camden school. A group from the new Cooper Medical School of Rowan University (CMSRU) came to meet these 4th graders and deliver special letters to them, as well as brand new backpacks stuffed with back-to-school supplies.
Jocelyn Mitchell-Williams, MD, PhD, Associate Dean for Multicultural and Community Affairs at CMSRU, led the group of volunteers, arms draped with backpacks, into the classroom. "The leaders of Cooper Medical School want to partner with you, to be extra resources for your teachers and give you help with school work and guidance when you need it," Dr. Mitchell-Williams told to the class. "Today we have a new backpack filled with goodies for each of you, and in it is a special letter from your partner at the medical school."
As the children received the backpacks, their excitement about the program was clear. With wide eyes and bright smiles, they opened their letters, read the names and looked at photos of their partners as Dr. Mitchell-Williams and the other volunteers personally introduced themselves.
The first of many outreach initiatives – developed to address some of the basic needs that go unmet for Camden City children and show support for the neighborhood where CMSRU will call home – CMSRU's Lanning Square School project shows the medical school's commitment to building a brighter and healthier future for the City of Camden. CMSRU volunteers will continue their partnership with this group of 4th grade students as they advance through the Camden public school system, serving as resources for homework help, special course instruction, field trip sponsorship, and general support and guidance.
"The high school dropout rate is very high in the City of Camden," explained Dr. Mitchell-Williams. "Studies have shown that mentoring programs can be effective in improving dropout rates, and the earlier the intervention the better. We believe that 4th grade is an excellent time to become involved with these students, and we will continue to work with them through middle and high school. We're confident that we can have an impact."
The core values of Cooper Medical School of Rowan University (CMSRU) play an important role in the culture of the nation's newest medical school, which will welcome its inaugural class in August 2012. In the midst of applicant interviews, construction of a new medical education building, faculty and curriculum development and the myriad of other projects surrounding the launch of an important institution of higher learning, CMSRU's leadership chose not to delay its service to the community.
"The core values of CMSRU are very clear. Among them are a commitment to personal mentorship, civic responsibility and lifelong learning," noted Paul Katz, MD, Dean of CMSRU. "We're proud to have the opportunity to work with children from our neighborhood, and help set the standard for community involvement that we will expect from our future students."