Street Medicine: CMSRU students help the homeless where they live
---
It took a few minutes of digging through a cardboard box stacked along the wall of the classroom, but Kali Staman found them: a pair of size 11 men's hiking shoes – well-worn, but in very good condition.
Staman, a rising third-year student at Cooper Medical School of Rowan University (CMSRU), placed the shoes on the table and attached a bright pink label with the name "Joe" on it. As she joined the assembly line with her classmates packing water bottles and granola bars into new pairs of socks, creating "lady kits" filled with feminine hygiene products, and stuffing backpacks with first aid kits, toiletries and other supplies, Staman reflected on the mission ahead: delivering the supplies – and one particular pair of shoes – to the homeless encampments in Camden, N.J. She looked forward to continuing her efforts to foster relationships with people living in these communities, with the ultimate goal of helping them get off the streets.
Staman is one of about two dozen students who currently participate in CMSRU Street Medicine, a service learning group that provides outreach, support, supplies, basic medical care and health screenings to unsheltered individuals in the encampments where they reside. The team works diligently to connect the homeless with primary care clinics, as well as community resources and social services available to help them. 
"There is a pretty large homeless population in the City of Camden and they are medically underserved," explains James Tur, MD, who founded CSMRU Street Medicine and led the program until his graduation from CMSRU this spring. "We provide first aid and health screenings, and attempt to connect them with social services or more advanced medical care, if needed. But most importantly, we try to just be a person they can talk to, someone who listens to them without judgement. Someone who treats them like a human being."
Being reliable, building trust
Every Saturday morning, the Street Medicine team meets at the medical school to prepare for their weekly outreach. After briefly reviewing encounters from the previous week and packing supplies, they divide into smaller groups and are assigned to visit specific encampments located throughout the city.  Within an hour the teams head out, often to some of the most desolate and gloomy parts of Camden.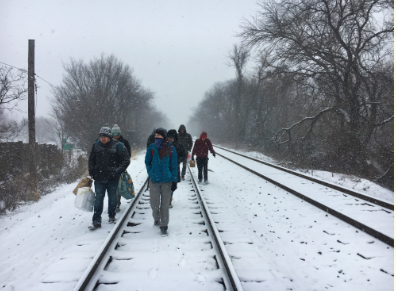 "We go out every Saturday all year long – rain, snow, sleet – it doesn't matter," says Staman. "As we walk through the encampments, most people are really happy to see us. They know us now, they count on us, and they trust us."
Building trust with Camden's homeless population is a cornerstone of the CMSRU Street Medicine program.  By showing up every week, following through on promises – like a pair of size 11 men's shoes for "Joe" – and treating the individuals with compassion, the students have succeeding in connecting once-reluctant men and women with important medical and social services that can improve their quality of life.
According to Tur, CMSRU Street Medicine team members not only refer clients for medical follow-up, they will accompany them to their appointments.
"We do our best to ensure our clients get the medical care they need in a controlled setting like the clinic or emergency department," he says. "If we can reduce anxiety and increase the likelihood that they keep their appointments by serving as their support person during clinic visits, we do it!"
Invaluable lessons for future physicians through service to the community
For the students, this out-of-the-classroom learning is having an important impact. 
"You can experience the complexity of health care firsthand, especially in a population affected by such difficult issues – like addiction, poverty and mental illness," says rising fourth-year medical student and CMSRU Street Medicine leader Kelsey Coolahan.
Coolahan describes her experiences with Street Medicine as "humbling" and she believes it will make her a better physician.
"I'm able see, firsthand, the barriers to care that many patients face – ranging from lack of legal identification to access to transportation," she explains. "But most importantly, I know the impact I can have on individuals by treating them with dignity and respect, regardless of their situation. I can share with other students, residents, and physicians what I've learned from this experience, and I have. All of us involved have. It makes a difference."
The CMSRU Street Medicine group values the safety of both themselves and their clients, adds Coolahan.  Members of Street Medicine undergo rigorous safety training before they are able to participate in outreach.
"Our group is dedicated to developing this invaluable experience into one that will last, grow, and make significant impacts on the community."
Service learning – with programs like Street Medicine – is a hallmark of the CMSRU curriculum and the heart of its pledge to give back to the community while developing highly skilled, socially conscious physician leaders who value a patient-centered, team approach to health care.  A minimum of 40 hours of non-medical service per year in the Camden community is required as part of the CMSRU curriculum, but most students surpass that.  Students work with established community programs or develop grassroots service learning initiatives, like CMSRU Street Medicine.
During the 2017-18 academic year, CMSRU's approximately 300 students completed more than 16,000 hours of service to the Camden community.